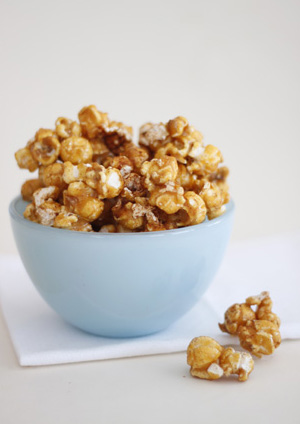 For Halloween treats, Thanksgiving party favors or stocking stuffers, this super-crunchy corn can't be beat. The number one flavor is Caramel Bourbon Bacon Crunch, bur our favorite is Butter Rum Caramel & Dried Cranberries. See our review.
This Middle Eastern condiment for fish, meat, vegetables and rice is like pesto without the nuts and dairy. It's so easy to make. Take a bite.

Here's the difference between a betty, crumble, crisp, grunt and related cooked fruit desserts. See all the October food holidays.



We adore the spilled food art of Italian painter Giulia Bernardelli. Here, spilled coffee becomes a landscape with children and animals. Talk about turning lemons into lemonade! Check it out.

This Week's Features
Are you a bacon lover? If so, how much of one? Otherwise stated, how many types of bacon have you had?

Learn some tricks, as well as the difference between icing and frosting. Take a look. More videos.

We didn't realize how much we missed sangria until it was served to us at a dinner party. Here's how to make it.

Grilling quesadillas adds the luscious taste of smoke. This grill basket is only $7.95. Get one!

American eating changed when ground beef was placed between sliced bread. The scoop.


How to enjoy ricotta for breakfast, lunch and dinner: This versatile fresh cheese is not just for ravioli and cannoli. Take a bite.
Most Popular Articles
More Of Our Most Popular Articles