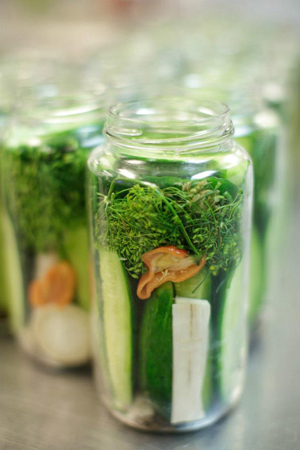 Pickles are low in calories, and some artisan pickle brands are packaged nicely enough to be giftable. Check out our review of almost 50 brands.
Celebrate the holidays by using pandoro bread to make a star-shaped version of the breakfast favorite. Take a bite.

Pick something delicious from our Pastry Glossary. The religieuse in the photo consists of two cream puffs decorated to resemble a nun's habit—very appropriate for the season. See all the December food holidays.

A fun holiday project: combine a big lemon, a small lemon and twigs. Take a look.
This Week's Features
They say that these mini bundts are large enough for to split; but we won't share a bite, A sophisticated treat and gift. Get yours now and read our review of this Top Pick Of The Week.

Learn some tricks, as well as the difference between icing and frosting. Take a look. More videos.

What did Jay Gatsby serve at those weekend-long cocktail parties? The White Lady, above, is one of the Jazz Age se cocktail recipes.

If you've been hesitating to buy a rice cooker because it only does one thing, this one doubles as a slow cooker. Get it now! More double-duty appliance tips.

The original mayonnaise sauce was transformed by a great French chef into today's guilty pleasure. The scoop.


A Norwegian specialty, gjetost is a sweet goat cheese spread that will delight goat cheese lovers. Get yours now!
Most Popular Articles