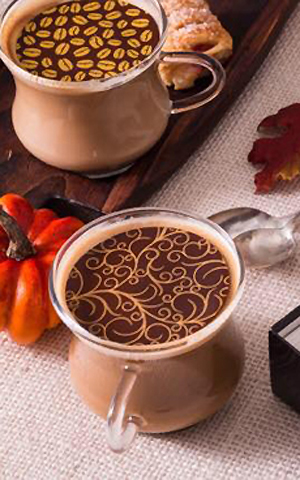 We love these chocolate cup toppers for gifting or a home treat. Place them atop a hot beverage and they'll melt right in. See our review.
Try these slow cooker apple recipes. Cooked apples with cinnamon and brown sugar are almost apple pie. but so much easier to make. Take a bite.

'Tis the season for pumpkin mousse. Here's the recipes. See all the November food holidays.



Why make a choice? This PieCaken combines pecan pie, pumpkin pie and apple cake. Check it out.
This Week's Features
These are fava beans, waiting to be shelled and cooked. How many types of beans have you had?

It couldn't be easier. Take a look. More videos.

For fall, skip the Cosmo or Appletini and try some apple cider cocktails. Here's how to make them.

Different types of beers benefit from different shaped glasses, engineered to bring out the special attributes of the beer. The scoop.

Mankind has been around for 200,000 years, but has only had soup for the last 8,000. Why? The scoop.

There is no generic "Swiss cheese" in Switzerland. What Americans call "Swiss" is Emmental. Take a bite.
Most Popular Articles
More Of Our Most Popular Articles