Custard Glossary
Page 5 Terms & Definitions: Q ~ Z
This page includes terms such as sabayon, tipsy pudding, tiramisu and trifle.
This glossary is protected by copyright and cannot be reproduced in whole or part.
Use this index bar to visit other pages.
a b c d e f g h i j k l m n o p q r s t u v w x y z
Queen Ann Custard
A dish of baked custard that is spread with a tart jelly or Curaçao orange liqueur; then covered with meringue and baked briefly until the meringue sets. The meringue is garnished with grated orange liqueur.
| | |
| --- | --- |
| | Quiche with spinach and bacon. |
Rice Custard
A custard made in a double boiler with cooked rice added. You can add raisins too, and have a combination custard-rice pudding dessert.
Sabayon
A mixture of egg yolks, flavoring and sugar, beaten over simmering water until thick, then beaten until cool. It is the French version of zabaglione, served over fresh fruit or grilled over fruit (when it is called a gratin). Sabayon is the base for mousses and buttercreams.
Soft Custard
See crème anglaise.
Sponge Custard
The bottom layer of this dessert is a rich lemony custard, while the top forms into a
delicate light sponge. Unlike basic baked custard, for sponge custards, egg whites are beaten separately and folded into the batter. During baking the batter separates, to form a creamy custard on the bottom with a sponge-cake-like top.
Photo of chocolate sponge custard courtesy of American Egg Board, IncredibleEgg.org.
Tipsy Pudding
A dessert made in a bowl: Rum- or sherry-soaked ladyfingers or other cake lines the bottom, topped with layers of soft custard and whipped cream garnished with macaroon crumbs and chopped nuts. The difference between tipsy pudding and trifle is that the latter has a layer of sliced fruit spread over the ladyfingers, and can be garnished with fruit as well (see photo below).
Tiramisu or Tirami-su or Tiramesu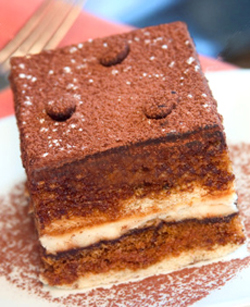 While there are many variations of the recipe, it is typically composed of layers of sponge or ladyfingers, soaked in espresso liqueur or a similarly flavored syrup, and layered with a mascarpone cheese and custard mixture; then dusted with cocoa or shaved chocolate. The name means "pick me up," from the espresso flavoring. The recipe was invented in the 1960s at the restaurant, Alle Beccherie in Treviso, Italy by pastry chef Loly Linguanotto; in the local Venetian dialect, the dessert is spelled tiramesu. The origin was tracked down in 2007 by Pietro Mascioni, the husband of a Los Angeles cooking teacher. Matriarch Alba Campeol, mother of owner Carlo Campeol, told Mascioni that she got the idea for the dessert after the birth of one of her children. Weak in bed, she was brought a zabaglione spiked with coffee, to give her energy. When she returned to work, she and her pastry chef worked on the "pick me up" layered dessert. The Becchiere recipe did not contain marsala or any other alcohol because it was served to children as well as adults; today, a good tiramisu is redolent of marsala. You can read the full story, plus competing claims to the invention, in this Washington Post article.
Photo of tiramisu by Kelly Cline | IST.
Trifle or Zuppa Inglese
A British dessert made by layering a thick custard, sponge or pound cake, fruit and whipped cream. It is usually arranged with the fruit and sponge cake on the bottom, custard or pastry cream and whipped cream on top. There are many variations of the recipe. Some trifles soak the cake in an alcohol syrup (the dish was originally developed to use stale cake), others sprinkle it with Port, sweet sherry or Madeira. Zuppa inglese is an English trifle especially common in Tuscany, because the English who lived there in the 19th century often asked for it.


Trifle, also called zuppa inglese ("English soup").
While there are numerous variations of the zuppa inglese recipe as well, it is commonly made with Italian ingredients including ladyfingers, rum, an aromatic liqueur like amaretto or Strega, and cocoa powder.
Trinity Cream
See crème brûlée.
Vanilla Sauce
See crème anglaise. Also called boiled custard, cream sauce, custard sauce, English crème and English sauce.
Zabaglione
An egg custard sauce flavored with sweet wine, traditionally marsala, but Port, Tokay and sherry are also used. It is a classic Italian dessert cooked on the stovetop; the custard is most often served warm over fresh strawberries (in this respect, it is very similar to Strawberries Romanoff, except that custard is flavored with Grand Marnier or Cointreau instead of marsala). It can be enjoyed on its own or over a slice of plain cake or ladyfingers. Also try it on coffee ice cream. See also sabayon.
Zuppa Inglese
See trifle.
© Copyright 2005- 2014 Lifestyle Direct, Inc. All rights reserved. Images are the copyright of their respective owners.