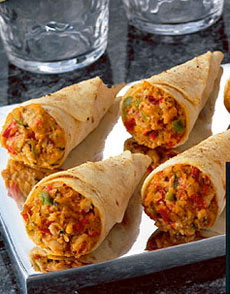 Chicken and Monterrey jack trumpets: From oven to plate in minutes.
April 2005
Updated May 2009

Black Tie Hors D'Oeuvres
Page 2: How Many Types Of Hors D'Oeuvres?
CAPSULE REPORT: This is Page 2 of a two-page article. Click on the black links below to visit other pages.
How Many Different Types Of Hors d'Oeuvres Should You Serve?
Caterers often use this rule of thumb:
Up to 50 people: 4 to 5 varieties
50 to 100 people: 7 to 8 varieties
More than 100: Up to 10 varieties
However, we look at it from the eating point of view, not the headcount point of view. It's how long the party lasts, not how many people attend. Whether you're one of 20 guests or one of 120, if you're there for two hours do you want to look at the same four puffs and quiches pass by, or do you want to see seven, eight, or ten choices? You be the judge!
Beyond The Cocktail Party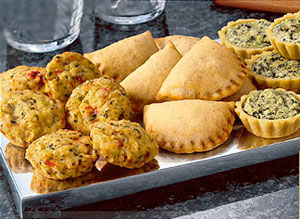 In addition to serving Black Tie at parties, you can bring a box of hors d'oeuvres as a hostess gift, use them for amuses bouche at your dinner table, or break open a box when you've had a long day and need to feel civilized with something more than just a glass of wine...in just seven minutes.

Mixed Hors d'Oeuvres.
BLACK TIE HORS D'OEUVRES
Fifteen varieties can be viewed
on the website

To find your nearest retailer, telephone:
1.877.304.2626
Peapod.com carries the Cheese Puffs with Dill, Broccoli Cheese Puffs, and Crab Cakes.


Broccoli Cheese Puffs
Chart content copyright Black Tie. Other content © Copyright 2005- 2015 Lifestyle Direct, Inc. All rights reserved. Images are the copyright of their respective owners.