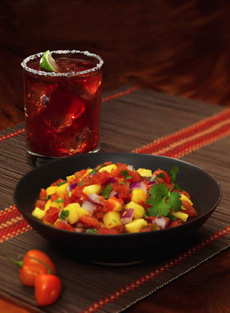 Photo of mango salsa courtesy of Cazadores Tequila.
April 2007
Updated August 2009

Salsa Glossary, Terms & Definitions
Page 4: Salsa Terms S~Z
Here you'll find the difference between salsa cruda, salsa fresca and salsa roja, along with a variety of interesting sauces from different parts of South America. This is Page 4 of a four-page article. Click on the black links below to visit other pages.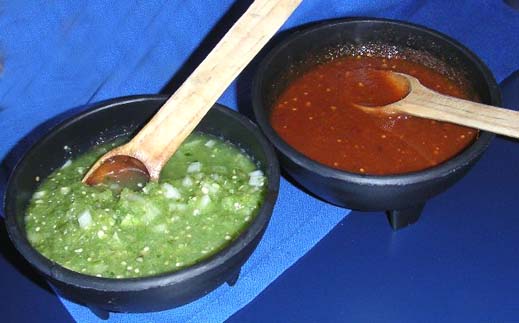 Homemade salsa verde and salsa roja. Photo | Wikimedia Commons.
Sofrito (soh-FREE-toh): A sauce made by sautéing annatto seeds in rendered pork fat to turn the oil red; the seeds are then removed. Then chopped onions, green peppers, garlic, pork and various herbs are cooked in the flavored oil until tender. Sofrito is used to used to flavor soups, sauces and meat dishes. Italians make a similar mixture, sautéed in olive oil.
| | |
| --- | --- |
| Tomatillo (toe-ma-TEE-yo—photo at right): While often called a green tomato, the tomatillo is actually a relative of the gooseberry. It's a tart, green fruit with a papery husk, and is used to make salsa verde. | The tomatillo. While it looks like a green tomato, it grows on a bush like the gooseberry, to which it is also related, as can be seen by the papery husk. |
If you have additions or suggestions for this glossary of salsa terms & definitions, use the Contact Us link on this page to let us know.
© Copyright 2005-2014 Lifestyle Direct, Inc. All rights reserved. Images are copyright of their respective owners.