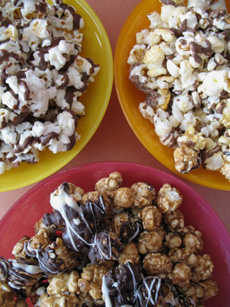 Clockwise from top left: Sensational Sweets Popcorn, Dale & Thomas Popcorn, Hampton Popcorn Company mixed dark and white chocolate popcorn, peanut butter white chocolate popcorn and kettle corn. Photo by Melody Lan | THE NIBBLE.
KAREN HOCHMAN and MELODY LAN ate much chocolate-covered popcorn in the the interest of researching this article.
July 2006
Updated December 2008

Chocolate-Covered Popcorn
Page 2: Hampton Popcorn Company
This is Page 2 of a four-page article. Click on the black links below to visit other pages.
Hampton Popcorn is a specialist in chocolate popcorn. Founded in Westhampton Beach, New York, the company turns out the ultimate popcorn indulgence: caramel corn generously coated with the best-quality chocolate we've found on any popcorn, plus three varieties of white chocolate popcorn. Not too sweet, and with no evident salt, it looks like popcorn but works like a fine confection. It is tuned to a connoisseur palate—although kids will polish it off without question.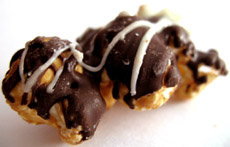 The corn is popped from mushroom kernels, a popcorn variety that expands and opens much larger than other kernels. The kernels are hot-air-popped in a climate-controlled room with no oils, then coated with the caramel mix and cooled before additional toppings are drizzled over. Not only is the result delicious, but the process creates a more durable, crispier corn: Three months after our several cans of Hampton Popcorn were opened, the popcorn remained crispy and delicious, while the other popcorns were soft and inedible. We wouldn't have expected our half-eaten cans of popcorn to remain so fresh after all this time—it's a delightful bonus.
Their flavors include:
Black & White Corn: Dark and white chocolate swirled together over caramel corn (photo above)
Chocolate Caramel Crunch: Dark chocolate over caramel corn
Chocolate Peanut Butter Crunch: Rich dark chocolate blended with creamy peanut butter over caramel corn
Naked Chocolate: Plain, air-popped corn (no caramel) topped with a light chocolate drizzle
White Chocolate Crunch: White chocolate over caramel corn
White Chocolate Peanut Butter: White chocolate blended with creamy peanut butter, over caramel corn
Four non-chocolate flavors of note complete the Hampton Popcorn offering:
Caramel Corn: The basic corn from which the chocolate corns are made, air-popped corn dipped in caramel
Kettle Corn: The Colonists' favorite, a sweet-and-salty mix

Parmesan Cheese:

Plain popcorn showered with savory parmesan cheese
White Cheddar Cheese: Plain popcorn covered with creamy cheddar cheese
All popcorn from Hampton Popcorn is made to order in small batches, which explains why every piece arrives so fresh and flavor-forward.
Hampton popcorn company

Ten Flavors, Listed Above

Certified kosher by OKA

1-GallonTin
$25.00
3.5-Gallon Gift Tin
$50.00
6.5-Gallon Gift Tin
$80.00

Other sizes and available, including small tins for party and wedding favors. Ground shipping is free.

Purchase online at HamptonPopcorn.com
or telephone 1.888.94.POPCORN



The tins are beautiful—you'll find reasons to
re-use them.
Continue To Page 3: Sensational Sweets
© Copyright 2005-2015 Lifestyle Direct, Inc. All rights reserved. Images are the copyright of their respective owners.