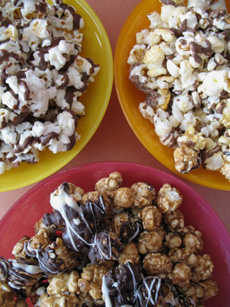 Clockwise from top left: Sensational Sweets Popcorn, Dale & Thomas Popcorn, Hampton Popcorn Company mixed dark and white chocolate popcorn, peanut butter white chocolate popcorn and kettle corn. Photo by Melody Lan | THE NIBBLE.
KAREN HOCHMAN and MELODY LAN ate much chocolate-covered popcorn in the the interest of researching this article.
July 2006
Updated December 2008

Chocolate-Covered Popcorn
Page 3: Sensational Sweets ~ Drizzled & Kosher
This is Page 3 of a four-page article. Click on the black links below to visit other pages.
Sensational Sweets is different from the other companies in this group in that it is not a popcorn specialist. The company makes confections from chocolate bark to fudge, in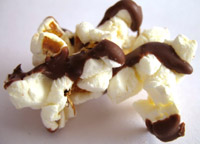 small, hand-made batches, on the family farm in the Susquehanna Valley of Central Pennsylvania. The line includes Drizzled Popcorn—one might call it "flecked" with chocolate rather than drizzled when to compared to the heavier "drizzling" of Dale & Thomas and Hampton popcorns. It's more of a classic popcorn that offers a touch of chocolate, and perfect for people who like a sweet-and-salty snack profile. It's like eating popcorn with a chaser of chocolate morsels.
The popcorn is fluffier and less crunchy than the other corns, for a melt-in-your-mouth effect. Sensational Sweets calls its chocolate "our own dark milk chocolate blend"—a hard-to-interpret phrase when you read it, but it approximates a 50 to 55 percent semisweet cacao.
SENSATIONAL SWEETS

Drizzled Popcorn

Certified Kosher by Star-K

1/2-Pound Bag With Bow
$9.60

7-Ounce Tub With Bow


$12.00
14-Ounce Tub With Bow
$18.95
Other sizes available. Private label and customize packaging upon request.

Purchase online at SensationalSweets.com
Continue To Page 4: Serving Suggestions
© Copyright 2005-2015 Lifestyle Direct, Inc. All rights reserved. Images are the copyright of their respective owners.