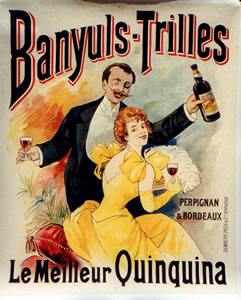 Banyuls is considered by many experts to be the perfect wine match for chocolate. Experts will note that this quaint poster advertises a quinine-flavored Banyuls that was once popular as a digestif—and an old-fashioned style that isn't around much anymore, and not a good match for chocolate. Instead, look for a Banyuls from top producers like Domaine de la Rectorie, Domaine du Mas Blanc, Domaine la Tour Vieille or Le Cellier des Templiers. Poster available at Nancy Steinbock Posters.
KAREN HOCHMAN is Editorial Director of THE NIBBLE.
February 2005
Updated February 2008

Pairing Chocolates & Wines
From Mint To Nuts, There's A Perfect Wine For Every Chocolate
As with food, when pairing wines with chocolate, match lighter-flavored chocolates with lighter-bodied wines, and more intense-flavored chocolates with more full-bodied wines. "Lighter" chocolate doesn't refer to white and milk versus dark chocolate, but the overall flavor of the piece. Dark chocolates with delicate ganaches, for example, can be lighter in flavor than white or milk chocolate filled with intense caramel or with spicy or nut centers.
When pairing wine with chocolate, you can seek wines that have the same flavor notes as the chocolate (nutty, cherry, mint); or look for contrasts. As with food and wine matches, only you are the arbiter of what works best: There are no absolutes. Some people enjoy a fruity Cabernet or Zinfandel with chocolate, others find them too dry; some love matching Bourbon with chocolate, others find spirits too harsh. Most experts would recommend sticking with fortified wines because the sweetness and structure of the wines match well with chocolate, but that's too simplistic. As you can see in the pairing chart below, there's a lot to choose from, and reasons to journey beyond fortified wines.
John Anderson of Woodhouse Chocolate in St. Helena, California, was a vintner for 20 years, making Cabernet, Chardonnay, Merlot, and sparkling wines. He cautions against serving Champagne with chocolate—it's too dry and astringent. We agree in general, but as an exception would pair a demi-sec or sweet Champagne with white chocolate. Joan Coukos of Chocolat Moderne pairs a rosé Champagne with her raspberry jam-filled chocolate. John Anderson, too, likes fortified wines like Port, but he also likes Bourbon with chocolate.
We went to a Lindt chocolate event where the Lindt 65% Madagascar chocolate was paired with a light Chianti, and white chocolate Lindor truffles (one of our favorite ways to eat white chocolate) was paired with a fruity Chardonnay and a piña colada. Who would have thought of those combinations—yet they were perfect!
The fun part of building lists like the one below is that pairing decisions don't have to be made in a day—in fact, they can't be. There's too much to taste; and over time, one's own preferences will evolve as well. It's important to recall that any wine variety—Cabernet Sauvignon, for example—offers a broad spectrum of choices, from light-bodied wines to heavy hitters. Leave the big, structured wines for food pairings (or to enjoy alone), and look for the lighter-bodied and fruitier wines that complement the fruitiness that is natural to most chocolate. Or, if you know your chocolate has a dark roast or naturally smoky flavors, think "smoky" and you might head for a single malt Scotch.
The more you know the nuances of your chocolates, the more you can match them to wines or spirits that have similar characteristics. Nowhere is this better done than in New York City at the Michel Cluizel chocolate salon. If you are in the neighborhood, do partake of the wonderful sommelier-conducted chocolate and spirits pairings. It's an eye-opening and memorable experience.
We'll update this list from time to time, so please tell us about your favorite chocolate and wine pairings. If you enjoy wine and spirits with your sweets, also read our article on the best dessert and wine pairings in our Wine section.
Note: This content is copyrighted and cannot be adapted or reproduced in whole or part without written permission from THE NIBBLE. Visit other areas of TheNibble.com for learning materials in other food areas. Start with our 40+ food glossaries or your favorite category of food.
CHOCOLATE

WINE PAIRING

BITTERSWEET CHOCOLATE


The most intense, richly-flavored dark chocolate is 70% to 100% cacao. Bittersweet chocolate can have bitter, roasted, fruity, earthy, woodsy, ashy and/or nutty notes.

The same wines will match bittersweet chocolate and semisweet chocolate.

BANYULS
BEAUJOLAIS

BORDEAUX

CABERNET SAUVIGON
COGNAC/ARMAGNAC
GRENACHE
MALBEC
MARSALA
MERLOT

MAS AMIEL CLASSIQUE
ORANGE MUSCAT

TAWNY PORT

RUBY PORT

SHIRAZ

ZINFANDEL

Because of the intensity of flavors, bittersweet and dark chocolates need to be paired with stronger red wines with concentrated fruit notes.
While some of the wines above may appear too tannic to pair with chocolate, the cocoa butter decreases the astringency and dryness of the tannins and the higher cacao content enables bittersweet chocolate to pair well.

PLUS:

Vin Jaune from Jura with its powerful, nutty flavor, pairs well with plain, high percentage (80% to 85%) cacao, as well as praliné/gianduja and enrobed nuts.
(List continues below.)
Chocolat and Cream Liqueurs (Godiva and Bailey's, e.g.)

SEMISWEET CHOCOLATE


Dark chocolate with 50%-69% cacao has strong, complex flavors, with nuances that are nutty, spicy, floral, earthy, fruity, and/or caramel. The aftertaste is balanced, not too sweet.

SAME WINES AS ABOVE

Fortified fruity wines like Banyuls (AOC) and Ruby Port have cocoa or chocolate in the nose, as well as cherry raspberry or other berry fruit, and are classic companions to chocolate. Banyuls is made from the Grenache grape, Port is a blend of several grapes. Banyuls and nonvintage Ports have softer, rounder tannins than vintage Port, which pair better with chocolate.
Beaujolais and Orange Muscat bring out fruity notes. While Orange Muscat, a dessert wine, is a predictable choice, Beaujolais is unusual. If you like the wine, try it.
Cabernet Sauvignon (including Bordeaux) brings out the fruity-peppery-grapey notes in the chocolate.
Muscat complements dark chocolates with fruit fillings, or fruit-flavored truffles, bringing out the fruit notes.
Tawny Ports, which have nutty and tobacco/leather notes, also make good pairings. Vintage Ports should be matched with caution: Their high sugar and alcohol content can overwhelm the chocolate.
Spicy Zinfandel brings out chocolate's spicy nuances.
Chocolat and Cream Liqueurs (Godiva and Bailey's, e.g.)

MILK CHOCOLATE


Milk chocolate has a higher percentage of sugar and smaller percentage of chocolate liquor. This, along with its milk content, yields a milder, sweeter product with fewer flavors and aromas. Prominent flavors include brown sugar, cocoa, vanilla, honey, caramel, milk, cream, nutty and/or malt.

HUNGARIAN TOKAJI
MAS AMIEL ROUGE & VINTAGE BLANC
MUSCAT/MOSCATO

TAWNY PORT


Sweeter chocolate needs sweeter wine, or the wine may taste tart.

Hungarian Tokaji dances beautifully with milk chocolate ganache.
Muscat, a white dessert wine with peach and apricot flavors, is also a popular partner for milk chocolate.
Tawny Port, a fortified wine, is the strongest match with milk chocolate. Its nutty nuances highlight milk chocolate's nutty and caramel notes and enhance the overall chocolate flavor.

WHITE CHOCOLATE


Made without chocolate liquor and thus not a true chocolate, white chocolate is a rich product made with cocoa butter, sugar and milk solids. It has sweet flavor notes including cream, milk, honey, vanilla, caramel, and/or fruit.

CHAMPAGNE
GEWURTZTRAMINER
MAS AMIEL VINTAGE BLANC

MUSCAT/MOSCATO

RIESLING


While to some the concept of Champagne or other sparkling wine with chocolate is romantic, the acid in sparkling wines produces tart flavors when paired with the cacao in milk or dark chocolate. However, there is no cacao in white chocolate, so white is a fine choice. Fresh strawberries dipped in white chocolate are very romantic! Even then, don't crack open a great bottle which is vinified to be dry for food. Get a sweeter Champagne: a sec or a demi-sec.
Gewurtztraminer has a slight sweetness plus typical lychee fruit. Along with Riesling (see below), an exotic pairing with white chocolate's typical dairy and caramel flavors.
Mas Amiel, a line of sweet wines from Southwest France, were born, to match with chocolate; and their Vintage Blanc specifically with white chocolate.
Muscat, also pairs well with white chocolate, bringing out any fruit notes within. It may pair better than other white dessert wines because it is less acidic.
Riesling has an exotic sweetness that complements the vanilla, caramel and honey flavors of white chocolate. The right Alsatian or German Riesling can also provide an unusual petrol note.
Chocolat and Cream Liqueurs (Godiva and Bailey's, e.g.)

CHOCOLATE THAT ALSO INCLUDES:

CARAMEL OR TOFFEE

HUNGARIAN TOKAJI
MAS AMIEL ROUGE & VINTAGE BLANC

MADIERA
MEURSAULT
OLOROSO SHERRY
SAUTERNES

TAWNY PORT

CHESTNUT CREME (CRÈME AUX MARRONS)

MEDIUM DRY SHERRY

CHILES (HABAÑERO, e.g.)

MAS AMIEL ROUGE

RUBY PORT

CINNAMON & GINGER

MAS AMIEL CLASSIQUE
ZINFANDEL (OR A DRY RED)

Two different options to pair with spicy cinnamon and ginger: Mas Amiel, a fortified, sweet red; and Zinfandel, a spicy dry red. If you can find a sweet Late Harvest Zinfandel, go for it: They can be almost Port-like.

COCONUT

BRACHETTO D'ACQUI
SAUTERNES/LATE HARVEST SEMILLON

Brachetto d'Acqui (DOCG), a light, ruby-colored sparkling dessert wine from Piedmont, with typical aromas of fruit and roses, is a great match with nuts and coconut.
Sauternes (Lafaurie-Peyraguey is a good style) or a Late Harvest Semillon from Australia are good complements.

COFFEE

Espresso, mocha, coffee bean and other coffee flavors

SHERRY

Oloroso sherry or cream sherry.
Coffee Liqueurs (Kahlúa, Illy, Starbucks, Tia Maria, etc.)
Chocolate and Cream Liqueurs (Godiva and Bailey's, e.g.)

FRUIT

Fruit-flavored truffles, chocolate cherries, chocolate-covered fruit, dipped glazed or fresh fruit

BANYULS
CABERNET SAUVIGON

MADIERA

MERLOT
RUBY PORT


Wines with strong fruit notes are good matches for fruit-accented chocolate.

Banyuls, with its cherry and berry flavors, pairs nicely with these fruit flavors in chocolate.
Cabernet Sauvignon brings out cherry-pepper-grape notes. With its heavier tannins, it may be a better match with dark chocolate.
Madeirais a traditional complement to fig, and goes beautifully with any fig-filled or dipped-fig chocolate.
Merlot, a softer red than Cabernet, can also partner well. Try it with milk chocolate.
Ruby Port brings out cherry and chocolate flavors.
Fruit liqueurs, e.g. Afrikoko (coconut-chocolate), Chambord or Framboise (raspberry), Cherry Heering or Crème de Cerise (cherry), Cointreau, Curaçao or Grand Marnier (orange), Creme de Banane or 99 Bananas (banana), Crème de Cassis (currant), Destinee (tropical fruits), Fraises (strawberry).

FRUIT GANACHE & FRUIT CREME

FRAMBOISE DESSERT WINE
ORANGE MUSCAT
MARSALA
PINOT NOIR
PORT
ROSÉ Champagne

Bonnie Doon Framboise, a dessert wine that is an "infusion of raspberries," made to go with chocolate.
Try Marsala or Vintage Port with citrus centers.
Orange Muscat.
A fruity Pinot Noir accents both the fruit and the fruitiness inherent in some fine couverture chocolate. A wine with milder tannins, it also is matches well with subtle creme fillings.
See the fruit liqueurs in the box above.

LIQUEUR

LIQUEURS

MINT

CABERNET SAUVIGON
ZINFANDEL

Cabernets and Zinfandels are a great match for chocolate mint cremes, mint thins, mint bars, and other variations of mint and chocolate—especially mint and dark chocolate.
Some California Cabs and Zins have pronounced minty nuances of their own. Your wine merchant should be able to direct you to those particular producers. For an even more interesting pairing, try some wines that are "minty" and some that aren't.
Chocolate mint liqueur such as Bailey's Mint or Vandermint

NUTS

Hazelnuts, almonds,
and other nuts and
praliné

BRACHETTO D'ACQUI
CABERNET SAUVIGON
MAS AMIEL ROUGE & VINTAGE BLANC
SHERRY

TAWNY PORT

Brachetto d'Acqui (DOCG), a unique red sparkling dessert wine from Piedmont that's a great match with almonds and other nuts.
Cabernet Sauvignon can bring out nutty accents, and also grapey flavors.
Jurançon, with its lime and clove aromas, harmonizes with pralines.
Mas Amiel's sweetness complements the chocolate and brings out the sweet qualities of the nuts.
Sherry that is not too sweet is a good companion to almond-based chocolate— ideally a Pedro Ximinez with its almond aromas, or a well-rounded Fino. Cream Sherry matches well with hazelnuts.
Nutty Tawny Port is the perfect match for a box of chocolate-covered nuts.
Lighter nuts like pistachio can be served with Sauternes.
Nut-flavored liqueurs to pair with the chocolate, e.g. Amaretto (almond) and Frangelico (hazelnut), Crème de Noix, Nocello, Nocino and Charbay (walnut).

SPICED CHOCOLATE

Bar or ganache

Jurançon, with its lime and clove aromas, matches nicely with spice-flavored ganaches.

TROPICAL FRUIT

VIN SANTO




Now Take The Test

Which wine would you match with these all-chocolate, single origin, semisweet truffles:

Vivienté, from Venezuelan Criollo beans: lively acidity, light mouth-feel and bright citrus notes.
Carmeñago, from Ecuadorian beans: rich cacao flavor, earthy strength, hints of tobacco and dark berries.
Bambarra, from Cote d'Ivoire beans: delicate, sweet aroma of toasted coconut with cool mint and burnt caramel on the mid-palate, finishing with the vibrant taste of exotic coconut.
Look for the answers in the chart above. (Hint: You have quite a few choices.)

Single origin truffles from Noka Chocolate.
© Copyright 2005-2015 Lifestyle Direct, Inc. All rights reserved. Images are the copyright of their respective owners.