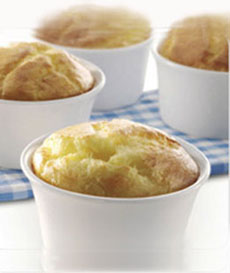 Summer Fancy Food Show
Best of Show ~ Summer 2007 ~ New York City
The NASFT's* Summer Fancy Food Show is a wild three-day race through the Javits Center in New York City, in which we try to find the most exciting new specialty foods among the more than 140,000 on display. It is a feat of stamina—the food Iditarod, where instead of braving the cold, you are braving your gastrointestinal system and ability to stay awake after forcing many thousands of calories and antagonistic food groups (barbecue sauce, pumpkin oil, fudge) into your system, on top of each other.
As you can imagine, you miss a lot of great stuff in the race to get through six miles of exhibits before the doors close; but you find wonderful things, too. In the past, our policy was not to honor products from companies we'd already reviewed. But this year, some of the most spectacular things we tasted came from those very companies, and no other products we tasted wowed us as much. So, here's the new policy: May the best products win. (You also can see our past Best Of Show winners.)
*The National Association for the Specialty Food Trade (NASFT.org) is the professional association for specialty food producers. Its 2,390 members produce nearly 180,000 specialty food products.
Trends
Some years have food trends, other years have trickles. This is a trickle year. At the January 2007 Winter Fancy Food Show earlier this year, we noticed trickles that continued into the summer show: more açai, more pomegranate, more goji berry, this time worked into jams, salad dressings, cookies and beyond; more gourmet cocktail mixers, pet foods (including fresh from the fridge); healthy gourmet foods, caramels, gourmet Indian foods (seemingly, the second largest ethnic cuisine represented after Latin) and single origin chocolates, which are now appearing as single origin hot chocolate as well. There were more energy drinks from traditional beverage companies—Steaz had a delicious new entry—and more fine salts and spices pre-loaded into disposable grinders. The seasoned wood group expanded, with Callison's showing even more ways to infuse food with their flavored skewers, and Fire and Flavor showing new flavors of their seasoned planks, plus new grilling papers.
The only truly new incipient trend we saw was the dawn of the individual-portion soufflés and fancy puddings—our silver medalists. It's a teeny category so far, represented by just three or four companies.
And The Winners Are...
Lillie Belle Farms:
Smokey Blue Truffles
Gold Star


Jeff Shepard, chocolatier of Lillie Belle Farms, never stops coming up with new and different ways to present chocolate. From his four exceptional toffees and celestial lavender salt caramels to his caramelized nibs, every year he brings something new and special. This year, Smokey Blue Truffles rocked a house as big as the Javits Center. Chocolate ganache is combined with award winning (and Nibble pick) Rogue Creamery Smokey Blue. It isn't easy to combine blue cheese and chocolate and get a dreamy result—others try and create nightmares. Our hats are off to Jeff, and to David Gremmels, co-owner of Rogue Creamery and maker of Smokey Blue. We also loved Jeff's new Cayenne Caramel, a liquid caramel with a hot rush of cayenne pepper in a 68% couverture.


The truffles are sliced in half to show the chocolate-blue cheese ganache (34% cacao milk chocolate), which is dipped in 68% couverture and enrobed in toasted almonds.

Chocolat Moderne
Kalamata Olive Caramel
Gold Star Tie

The other stunning mouthful of chocolate we'd like the world to experience is Joan Coukos's Kalamata Olive Caramel, from the Greek Revival Collection due this fall. If you can experience a lush, sweet, limpid caramel enrobed in chocolate with a finish of pure, salty kalamata olive oil—it's brilliant. Joan is another chocolatier who keeps working on new flavors with a zealousness that impresses us. The caramel is one piece in a larger collection of caramels, ganaches and pralines that includes Rose-Pistachio, Masticha Orange Blossom, Baklava, Halvah and Ouzo. For now, you can order the delightful Kimono Collection with Adzuki Bean, Green Tea-Almond, Persimmon-Peach, Sesame-Shichimi Togarashi, Shiso-Lime and Soy-Miso.
Sukhi's Healthy Indian Entrées
Silver Star

We love Indian food, but the fat content is a bit more than would make a cardiologist happy. Sukhi's Gourmet Indian food managed to make a Lite 'N Healthy line that takes nothing away from the delicious rich flavors of their regular line, with just three grams of fat per serving (just one and a half for the Chicken Saag), we could eat Sukhi's Lite 'N Healthy entrées every day. Available in Channa Masala, Chicken Saag, Chicken Tikka Masala and Dal Saag.




Never had sticky toffee pudding before? We
promise: Your first time will be memorable.



The Pudding & Souffle Entrants:

Entrée Delights
Patrick David's Fine Foods
The Sticky Toffee Pudding
Company
Bronze Star

So often, we've bought specialty puddings and find them a dreary lot. Now, in 20 minutes or less, spiffy soufflés and puddings that could be served at the finest restaurants emerge from your oven or microwave. We wish we could include Heavenly Soufflé in this group, but it was a Top Pick Of The Week in May, and these stars only go to new discoveries. Patrick David's Fine Foods presented an addictive Chocolate Chip Brioche Bread Pudding. The Sticky Toffee Pudding Company's lemon pudding won an award at the show, but we'd have given our own award to the sticky toffee flavor. Entrée Delights gets kudos for their cheese soufflé. All three companies make chocolate soufflés (and in some cases, other flavors) but we're sticking with Heavenly Soufflé's chocolate and chocolate mint for now.



Fire And Flavor
Honorable Mention

While we love Callison's Seasoned Skewers, a prior winner and Top Pick Of The Week. Fire and Flavor has a different way of imbuing food with flavor. We first saw their grilling planks last year—alder, cedar, maple and oak. Just place the seafood, meat or poultry on top and grill: the flavors of the wood cook into the food. This year, they've taken almost paper-thin shaved slices of wood that, after soaked briefly in water, are pliant enough to wrap around the food so you can steam your fish or chicken with vegetables inside the "packet." For grill or oven, both products deliver not only great flavor, but calorie-free flavor.
Foie de Lotte Monkfish Liver
Honorable Mention

Sushi aficionados will jump for joy: all ankimo, all the time. The idea of a shelf-stable supply of monkfish liver was a winner even before we discovered it: It had received the prestigious Innovation Award at the SIAL food show in Paris earlier in the year. Monkfish liver is almost as good as caviar or foie gras as an hors d'oeuvre or a first course—in fact, some people think it combines the best of both. Serve it sliced on a bed of shredded daikon with some ponzu sauce, or on large slices of daikon or potato as an hors d'oeuvre.






Linda's Gourmet Latkes
Honorable Mention

Who doesn't love a latke? Linda Hausberg makes her latkes in bite-size for hors d'oeuvres, and regular size for main courses. They arrive frozen and in no time, piping hot latkes emerge from your oven. We love ours with sour cream and salmon caviar. Whether for our own entertaining or as a gift for the latke-deprived, we no longer need to grate our fingers to the bone.

Vosges Haut Chocolat: Mo's Bacon Bar
Honorable Mention

Applewood smoked bacon + Alder smoked salt + 41% dark milk chocolate = excellent chocolate experience, not gimmicky in the least. Last year we tried a bacon brittle from another company, and were not persuaded. Vosges' effort is splendid. Santa we'd like a stocking-full, please.



We enjoyed so many things at the show and we're sorry we can't mention everyone. But we'll review as many as possible between now and the January Fancy Food Show.
© Copyright 2005- 2015 Lifestyle Direct, Inc. All rights reserved. Images are the copyright of their respective owners.