A Cornish game hen gets flavored internally with Citrus Rosemary, one of six flavors of Seasoned Skewers that infuse meats and vegetables.

WHAT IT IS: Flavor-infused natural wood skewers for meats and vegetables, hors d'oeuvres and fruit.
WHY IT'S DIFFERENT: So many products that seem to be innovative don't pan out. This one does—no pun intended. Natural flavors infuse the inside of your food with fresh tastes. Amazing!
WHY WE LOVE IT: Delicious and fun for anyone and an extra-special treat for dieters. We love making the same piece of chicken taste different in six different ways.
WHERE TO BUY IT:

MySecretPantry.com and specialty retailers nationwide.


Seasoned Skewers:
Calorie-Free Flavor Explosion

Last summer, we wrote about Seasoned Skewers, one of our favorite finds of the year— a 100% natural product made from untreated Maine wood that is flavored with herbal extracts and essential oils. The skewers release natural oils and extracts into the food as it cooks, infusing food with flavor but zero calories. Even for those with little kitchen talent, they turn beef, pork, poultry, seafood, potatoes and other vegetables into truly delicious food. Even fruit could be skewered and seasoned with flavors like Citrus Rosemary and Honey Bourbon. And, they're even kosher.

Based on the enthusiastic reception, the company has introduced a line of Starter Skewers for hors d'oeuvres, and will shortly launch Fruit Stickles for fruit sides, garnishes and desserts. With summer barbecues, visiting and general entertaining season under way, we couldn't wait to tell you so you can start planning what to skewer first.

Click here to read the full review below. (If your e-mail client does not support anchor links, scroll down.)
Read reviews of more of our favorite gourmet seasonings in THE NIBBLE online magazine.
See the Table of Contents of the June issue of THE NIBBLE, plus the back issues archive and our most popular articles.
All of the Top Pick Of The Week newsletters are permanently archived on TheNibble.com, in chronological order and by product category.
THE NIBBLE™ does not sell the foods we review
or receive fees from manufacturers for recommending them.
Our recommendations are based purely on our opinion, after tasting thousands of products each year, that they represent the best in their respective categories.
Best In Barbecue
Deluxe Forged Barbecue Set. Paderno's cherry and rosewood grilling set is finely crafted and designed for exceptional added strength and better balance. Stay-cool handles are secured by rivets for exceptional durability. $119.99. Click here for more information or to purchase.
The Big Book of Barbecue Sides,
by Rick Browne. More than 125 inspired recipes to serve with barbecue, hot dogs and hamburgers. Every category from salads to pastas, rice, beans and fruits. $12.71. Click here for more information or to purchase.
Good Grips Silicone BBQ Mitt By Oxo. When you're next to the fire, protect yourself with the best. This 15" lightweight mitt is heat-resistant up to 600°F; the grooved silicone surface provides flexibility and non-slip grip. Machine washable. $29.95. Click here for more information or to purchase.
Seasoned Skewers:
Calorie-Free Flavor Explosion
Seattle is not just a coffee town. From Pike Place Market—the most prominent food-lover's destination spot—to dozens of innovative artisan food manufacturers and a general fine dining and shopping scene, it's a city that could keep a food writer happy for some time.
One such innovator is Callisons Fine Foods, a family-owned business that has been putting flavor into food since 1903. After decades of making flavors and seasonings, the company devised a way to use flavors in a new form—impregnating birch skewers with natural extracts and oils, which in turn creates a delicious way to infuse food from the inside.
It doesn't mean that you can't add rubs or seasonings to the outside of your food (although you don't have to). It does allow you to layer flavors in a new way, and to enjoy some flavors that generally only come with calories attached—Thai coconut milk, for example—in a fat-free. calorie-free version, salt-free version.
Skilled cooks can use them; or those who don't feel deft with seasonings can turn out delightfully-seasoned fare.
Some flavors pack more punch than others—de facto, Indian Mango Curry and Mexican Fiesta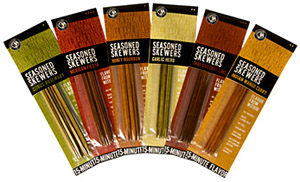 should clamor louder than Citrus Rosemary. But all do their jobs no matter how you cook them—broiler, oven, steamer or hot coals. There's no need to soak the skewers—just skewer the food 10 to 15 minutes before cooking so the flavors can infuse.
Seasoned Skewers
We first discovered Seasoned Skewers more than a year ago when they were first introduced to the trade, and wrote about them last summer when they were launched in retail channels. We loved them from the beginning—an easy way to make a tasty dinner, a magical way to make the same breast of chicken taste different night after night without adding any fat, carbs—in fact, without adding a single calorie. In our ongoing search to eat lightly after a day's tasting at THE NIBBLE, we put chicken, fish, tofu and vegetables through their paces with each of the flavors:
Citrus Rosemary (Mild)
A delicate blend of rosemary and garlic, sweetened with the essence of orange.
MATCH WITH: Baked potatoes, chicken, fish, lamb, scallops, shrimp, vegetables
Garlic Herb (Medium)
A full-bodied mix of garlic, basil, lemon and chives.
MATCH WITH: Beef, chicken, duck, pork, potatoes, scallops, shrimp, vegetables
Honey Bourbon (Mild)
The perfect marriage of two classic barbecue flavors.
MATCH WITH: Everything!
Indian Mango Curry (Hot)
Sweet mango mingles with the exotic spice of cardamom and curry
MATCH WITH: Beef, chicken, duck, fish, grilled fruit, pork, scallops, shrimp, vegetables
Mexican Fiesta (Hot)
A robust mix of smoked chili pepper, coriander, cumin and lime.
MATCH WITH: Baked potato, beef, lamb, pork, shrimp, vegetables


Put flavor into chicken—especially poached or with
the skin removed, when every extra bit of taste
counts. Here we used a Thai Coconut Lime skewer
and some Mandarin orange segments for a low-
calorie Asian Chicken Salad.



A Garlic Herb Seasoned Skewer makes these potatoes taste so delicious, you don't need to slather them in butter. We've crumbled some feta on top instead. Or, you could use an Indian Mango Curry skewer with some fresh mint.

Thai Coconut Lime (Medium)
The exotic flavors of Thailand—coconut, ginger, lemongrass, red pepper and kaffir lime.
MATCH WITH: Chicken, scallops or chunks of swordfish or mahi mahi with bell pepper, onions and pineapple chunks

A benefit of seasoned skewers is that you can have different-flavored skewers with the same chicken, fish, vegetables or whatever at the same meal.

How Your Life Changes With Seasoned Skewers

Diet Pizzazz
Can't eat the skin on the chicken? Think you'll scream with one more boring broiled fish? You'll be thrilled with how seasoned skewers bring food alive from the inside. Really, these skewers deserve a prize for innovation at SIAL. the international food expo.
Instant Glamour For Guests
Have company but no energy (or ingredients) to cook something special? Everyone loves to eat food on a skewer, the presentation is always exciting, and Seasoned Skewers do more for the food than any "regulation" skewer.
Family Entertainment
Suddenly, the foods you eat every week take on new flavors—and spouses and kids who had no interest in helping to make meals just love to decide on the flavors and skewer the food .
Seasoned Skewers
Citrus Rosemary, Garlic Herb, Honey
Bourbon, Indian Mango Curry, Mexican
Fiesta, Thai Coconut Lime

Certified kosher (dairy) by Orthodox Union


Purchase online at My Secret Pantry.com and Amazon.com

Also available at fine retailers nationwide, including Dillard's, Macy's, Sur La Table, Wegmans, Wild Oats and Whole Foods Markets.




Scallops and mango on an Indian Mango Curry skewer.
SEASONING WITH ARTISAN SALTS
Artisan salts are distinctly different from supermarket
salt. They're not "salty," they're delicious! They're
also beautiful—from pink, grey, ochre, black and
other colored salts to beautiful crystal formations.
Read about them in our Salt Glossary.

Seasoned Starters
This year, Callisons has taken Seasoned Skewers in new directions. First, those ingenious 10" flavored skewers are now hors d'oeuvre-size, making entertaining even more easy, fun and delicious. While you can use the full-size skewers to serve main courses and more substantive snacks, the objective of the 6" Seasoned Starters is to serve just a bite with cocktails, or two or three different skewers (either different items or the same item—for example, shrimp on three different-flavored skewers) as a first course.
Garlic Herb skewer with a cube of chicken, lamb or beef, a scallop or a shrimp, even cheese cubes
Ginger Mango skewer with chicken, shrimp or grilled zucchini
Mexican Fiesta skewer with chicken, swordfish, marinated cherry tomatoes, tofu, Cheddar or other complementary cheese
Thai Coconut Lime skewer with mahi mahi or tuna
Or, use them as a dramatic plate garnish for another course. Imagine one of the shrimp below, anchored like a flag into a dinner portion of grilled fish; or a red-jacket potato and a cherry tomato skewered atop a tenderloin or chop. One guest accused us of emulating a famous New York chef—but such accusations we can bear.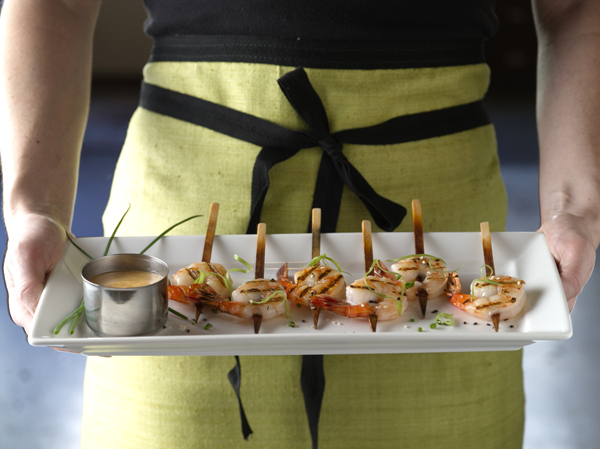 Above, grilled shrimp with Ginger Mango Seasoned Starters, garnished here with black and white sesame seeds, snipped chives and shredded green onion, and served with another Top Pick Of The Week, Real Wasabi Ginger Sauce.
Seasoned STARTERS
Garlic Herb/Mexican Fiesta or
Ginger Mango/Thai Coconut Lime

Package Of 20
10 Skewers Per Flavor
$8.99

Purchase online at My Secret Pantry.com and Amazon.com

Also available at fine retailers nationwide.


Salmon kabob on Thai Coconut Lime Seasoned
Starter.
Fruit Stickles
In several weeks, Seasoned Skewers and Seasoned Starters will have a new sibling: Fruit Stickles. They combine the fun of skewering fruit with the added dimension of flavor. You can skewer not only fruit, but mellow cheeses and marshmallows, to achieve the right presentation for your purpose:
As an exciting garnish for cake, pie and other desserts (you can skewer a strawberry and a marshmallow into a cupcake or a scoop of ice cream for an impressive presentation)
For a light dessert, with coffee and cookies
As a fruit "side" with omelets, pancakes and waffles or sandwiches
Try Fruit Stickles as an enticement for people who need to eat more fruit but are resistant.

Fruit Stickles will be available soon in:

We went loco for the Cinnamon Fruit Stickle with the Cinnamon & Raisin peanut butter from P.B. Loco.
Callisons' creativity doesn't end with skewered food. Soon, you'll be able to enjoy their infused technology in your drinks via Minglirs (flavored stir sticks for coffee and cocoa) and Elixstirs (flavored stir sticks for tea and cocktails). But for now, master the art of skewering. We promise great fun, great flavor, and zero fat or calories. When was the last time you got an offer like that?
—Karen Hochman
FORWARD THIS NIBBLE to anyone who likes easier ways to cook and more ways to make food exciting.
SEASONED SKEWERS

Fruit Stickles, Seasoned Skewers, Seasoned Starters

Purchase online at Amazon.com:

Prices and product availability are verified at publication but are subject to change. Shipping additional.


Skewer vegetables to add great flavor and make an impressive garnish.






Read more about our favorite
seasonings and related products in
THE NIBBLE online magazine.




Check Out These Other "Top Pick Of The Week" Seasonings:
FOR ADDITIONAL INFORMATION, special offers, contests, opinion surveys, THE NIBBLETM back issues archive, product gift-finder, links to our favorite food websites, and the ability to nominate your favorite nibbles, visit www.TheNibble.com.
Do you have friends who would enjoy THE NIBBLE?

Click here
to send them an invitation to sign up for their own copy
.
---
ABOUT THE NIBBLE. THE NIBBLE™, Great Food Finds™, is an online magazine plus newsletters about specialty foods and the gourmet life. It is the only consumer publication and website that focuses on reviewing the best specialty foods and beverages, in every category. The magazine also covers tabletop items, gourmet housewares, and other areas of interest to people who love fine food. This e-mail from the editors features the Top Food Pick of the Week. You can read the complete magazine and past issues at TheNibble.com.
To unsubscribe, send an e-mail to Editors(at)TheNibble.com. To contact us with comments or suggestions, click here. If you received this from a friend but would like to subscribe directly, go to www.TheNibble.com.
© Copyright 2004-2015 Lifestyle Direct, Inc. All rights reserved. All information contained herein is subject to change at any time without notice. All details must be directly confirmed with manufacturers, service establishments and other third parties. The material in this e-zine may not be reproduced, distributed, transmitted, cached, or otherwise used, except with the prior written permission of Lifestyle Direct, Inc.