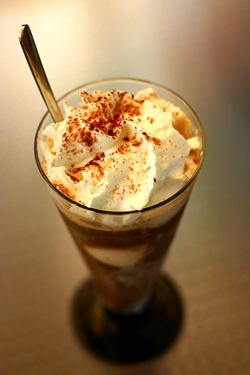 Warm, comforting, and another way to enjoy gourmet chocolate. What could be better? Photo copyright Luis Alvarez.
KAREN HOCHMAN is Editorial Director of THE NIBBLE.
February 2006
Updated September 2006

25 Great Hot Chocolate Tricks
Contemplating America's Favorite Winter Beverage
If you love hot chocolate and drink a lot of it, variety is the spice of life. Here are 25-plus ways to add oomph to your elixir. But first, some background notes:
There is a difference between cocoa and hot chocolate. Cocoa is made from cocoa powder, and hot chocolate is made from shaved chocolate bars. Hot chocolate is richer because chocolate bars have a higher cocoa butter content than cocoa powders. However, much depends on what you mix with the chocolate or cocoa powder. Cocoa powder mixed with milk can achieve the richness of chocolate shavings mixed with water. There is no right or wrong: it's the recipe you prefer.
To make true hot chocolate, you can buy hot chocolate mixes made of tiny chocolate shavings; you can buy fine shaved chocolate from baking suppliers (much less expensive, since mixes tend to be $12 to $25 for 12 ounces); or you can shave your own from your favorite chocolate bars. The bars can be dark, milk, white or flavored chocolate—or you can blend them. If you go the bar route, look beyond the cheapest chocolate bars: the better quality the bar, the better quality the hot chocolate. You're better off with a good cocoa powder than an inexpensive chocolate bar, which can have a relatively low cocoa content.
After you've made your basic cup, what can you do with it? Follow these ideas, and you can have a different hot chocolate experience almost every day of the month.
Richer Hot Chocolate

1. A Richer Solution

Regardless of what the recipe calls for, use milk instead of water—and use whole milk. If you're on a lowfat diet and need to use fat-free milk, buy the ultrapasteurized version: it tastes like 2% milk but doesn't have the added fat.

Photo courtesy of Straus Family Creamery.

2. Super-Rich Hot Chocolate

If you want super-rich hot chocolate, don't use half and half—it's too heavy. The secret is to add a teaspoon or more of sweet butter to each cup before you pour in the hot chocolate. The butter turns average cocoa into a really good cup, and great cocoa or hot chocolate into a memorable experience.


Photo courtesy of Cabot Creamery.

3. Quickie Deluxe Hot Chocolate

Those luxury hot chocolates that can cost $25 a box or more are simply chopped up bits of fine chocolate bars. You can chop up your own bar and combine one ounce (3 tablespoons) of chopped chocolate with one ounce of whole milk in a mug. Microwave for 30 seconds, and stir thoroughly. Add another six ounces of milk, stir, and heat for another 60 seconds. You can use any chocolate: dark, milk or white. Flavored bars work, too; or add a dash of cinnamon, anise, nutmeg and chili powder for "Aztec" hot chocolate. You can use chocolate morsels, but the key is: the finer the chocolate, the more delicious the drink. For a richer beverage, you don't need to use cream: the secret is to add a teaspoon of sweet butter to the milk before you heat it. Note: don't make this with 2% or fat-free milk: the purpose is to enjoy a sumptuous beverage. If you're cutting back, the fat-free single-serve commercial cocoas like Nestle and Swiss Miss are best.


Photo courtesy of Schokinag.
Flavored Hot Chocolate

4. Banana Hot Chocolate

Puree half a ripe banana for each 8-ounce cup of hot chocolate. Add 1/4 teaspoon cinnamon and a grind of fresh nutmeg to the banana puree, warm it in the microwave for 20 seconds, and stir the puree into the hot beverage. You can garnish the beverage with a side of banana chips (or for kids, marshmallows and graham crackers). We're not saying this is a "health drink," but it combines potassium and anti-oxidants, and it sure is a mood elevator!


Photo copyright Davide Guglielmo.

5. Chai Hot Chocolate

If you love both chai and hot chocolate, you'll also like them when they're mixed together. This recipe serves two.

Grate 2 ounces of good chocolate in the 40%-50% cacao range.
Brew 3 ounces of chai tea for five minutes in a cup of boiling water. Strain the tea into a quart pot or bowl, pressing a spoon against the leaves to extract the most tea.
Simmer a cup of milk over medium heat, add to the tea, then add the chocolate. Mix with an immersion blender until the chocolate has melted.


Photo of chai copyright Meghan Anderson-Colangelo.

6. Cinnamon Hot Chocolate

Stir hot chocolate with a whole cinnamon stick for a classic flavor pairing. You don't need a cloud of whipped cream to make this trick work: serve the cinnamon stick on the saucer, or in a dish on the table as hot chocolate "condiments" so guests can help themselves. (If you inherited a glass cigarette jar from Grandma, it will make a great server for cinnamon sticks).

Photo copyright Jerry X.

7. Liqueurs

Strictly for adults, but oh-so-wonderful: bring out all of your too-seldom-used liqueurs and let guests select their favorites. Many flavor families work: fruit flavors like Grand Marnier and Framboise; coffee flavors like Kahlua; chocolate flavors like Godiva chocolate liqueurs; creamy liqueurs like Bailey's and Voyant Chai; and spicy flavors like Anisette. Start with a tablespoon per cup, and provide liqueur glasses: guests may enjoy a chaser.

8. Mint Hot Chocolate

Smash the stems of a few sprigs of fresh mint, and add them to the hot chocolate as it cooks; strain before serving, and add a fresh sprig to garnish. You can use mint extract if you don't have fresh mint. It's a fresher, zingier, more natural alternative to the peppermint stick approach (see Garnishes, below)—with no added calories!

Photo copyright Angelice.

9. Raspberry Hot Chocolate (Or Your Favorite Berry)

Puree six raspberries for each cup of hot chocolate, and add them to the milk and chocolate mix. Continue to prepare the recipe according to directions. Garnish with a fresh raspberry skewered on a cocktail pick. Frozen raspberries work fine for the puree. If you have neither fresh nor frozen but adore raspberries and chocolate, try 1/4 teaspoon of raspberry extract per 8-ounce cup. This also works with blackberries, strawberries or any berry you're particularly fond of.

Photo copyright Dirk de Kegel.

10. Spicy Hot Chocolate

If you love "Aztec" hot chocolate but don't love the high prices of the fine gourmet brands, mix up your own spice blend. Try this basic mix, and add it to your hot chocolate until you find a level of spiciness you like. You can vary the level of individual ingredients (e.g., more or less chili/chipotle or ginger): 1 teaspoon each chili OR chipotle powder and cinnamon; 1/2 teaspoon each cardamom and ginger; 1/4 teaspoon each cloves and nutmeg. Mix all ground spices together. Start by adding 1/2 teaspoon of the mix per cup of hot chocolate, and increase to taste.


Photo copyright AngelaFoto.

11. Syrup Shots

Some of the preceding ideas require advance planning, but you can always have a bottle or two of flavored syrups on hand for coffee, tea, desserts and hot chocolate. We wouldn't use them on the designer hot chocolate because the heaviness of the syrup covers up the expensive cacao flavor. But they're just perfect to add pizzazz to supermarket hot chocolate. There are dozens of flavors to have fun with, including banana, caramel, cherry, cinnamon, coconut, egg nog, orange, peanut butter, praline, peppermint, toffee, and toasted marshmallow. Remember that the syrups are sweet, so cut the sugar in the hot chocolate recipe in half. As with a cup of coffee, you can always add more.

Garnished Hot Chocolate
Cocoa and whipped cream are a great tradition. Here are some additions and alternatives.

12. Chocolate Curls or Shavings

One of the oldies and eternal goodies: chocolate curls. Shave or grate some chocolate bar on top of the whipped cream for a finishing touch. First shave into a dish, then spoon onto the whipped cream; or you can buy shaved chocolate. If the chocolate bar is spicy, bittersweet, or minty, so much the better! Or, combine white and dark curls, or a trio: white, milk and dark.

Photo copyright Patterson Minx.

13. Confetti Hot Chocolate

Celebrate special occasions with confetti hot chocolate. Buy colored sprinkles, and combine them with chocolate curls. How about blue and white sprinkles for Chanukah, red and green for Christmas, red for Valentine's Day, and green for Saint Patrick's Day. For the new year, silver dragées!

Photo copyright Patterson Minx.

14. Flavored Morsels

Sprinkle morsels on top of whipped cream: chocolate, butterscotch, peanut butter, or any flavor. Those that aren't eaten immediately will melt into the hot chocolate. Mini morsels provide a different effect; you can create morsel art by mixing mini and regular sizes and different flavors.

15. Cookie Cocoa Garnish

Anchor cute character cookies in the whipped cream topping of a cup of hot chocolate. Fan-shaped cookies have been popular for generations, and thanks to clever cookie makers like Eleni's New York, you can have a cookie representing any season, hobby or holiday.

16. Cup Rimmers

Glass rimmers for cups or glasses of hot chocolate add an extra touch of flavor and a festive look to the rim. Cocktail rimmers for chocolate martinis, espresso martinis, peppermintinis and orange blossoms are essentially the same product and work perfectly for this. Stirrings and Wildly Delicious both have a mocha-chocolate rimmer for coffee and cocoa (it also can be used around the rims of iced lattes and chocolate milk). Or, make your own. Mix ingredients like instant chocolate drink and cinnamon; or unsweetened cocoa powder, sugar and instant coffee. You can add sparkly decorative sugars too. Put your mixture in a soup bowl, moisten the glass or cup rim with a wedge of orange, and dip the moistened rim in the mixture to get an even coating about 1/8 to 3/8 inches deep. Then, pour the hot chocolate in carefully so as not to destroy your handiwork.


17. Crushed Peppermint Rimmer

Crush peppermint candies or candy canes in a food processor or spice mill. Coat the rim of the cups per the instructions above. Each sip will combine silky hot chocolate and crunchy peppermint candy.

18. Fresh Nutmeg and Cocoa Powder

Nutmeg isn't just for egg nog. If you have a nutmeg grinder, try a fresh grind on top of your hot chocolate. The aroma and flavor combinations are very sophisticated and compatible. You can sprinkle sweetened cocoa powder on top, too.

19. Brandied Cherries

Instead of adding a liqueur to your hot chocolate, a brandied cherry gives you a spirited taste while leaving the flavor of your hot chocolate pure; it's the better alternative for accenting top-quality cacao. Nestle a cherry on top of some whipped cream. You can purchase brandied cherries, or make your own by marinating them for several hours or longer in kirsch (cherry brandy, which is also an ingredient in cheese fondue).

20. Handmade Marshmallows

You haven't had a marshmallow until you've tried the real thing: they're to supermarket marshmallows what the greatest cheeses are to a plastic-wrapped sandwich cheese slices (in other words, no comparison whatsoever). Two of our favorites: Michael Recchiuti's marshmallows, shown at the right; and Tiny Trapeze marshmallows, which come in vanilla and amazing chocolate.

21. Marshmallow Creme

One of the all-time favorite garnishes, the crème de la crème of marshmallow cremes is from Tiny Trapeze (available at Whole Foods Markets). It's so good, heed our advice and buy more than one container (four is a good start).

22. Peppermint & Other Candy Stick Stirrers

Offer peppermint sticks as festive stirrers when you serve hot chocolate and coffee, too. Guests can give a quick stir for just a hint of extra flavor (and eat the candy on the side), or leave the stick in to melt completely. Peppermint sticks aren't just for the holidays; and butterscotch, rum, raspberry, and other beautiful candy sticks are always available in specialty food stores and candy shops.

23. Peppermint Whipped Cream

Grind three candy canes or eight 1-inch peppermint candies to a fine powder in a food processor or spice mill. Set aside 3 to 4 tablespoons of the powder, depending on how strong a flavor you like, and reserve the rest in a small container for future use. Beat two cups of cold heavy cream in a small bowl until soft peaks form; fold in the peppermint powder. Garnish hot chocolate with the whipped cream.

Dazzling Drinkware
Packaging is everything: your hot chocolate will taste so much better in a gorgeous glass mug versus the same old cup you use for everything.
24. Mocha Mug

Imagine how nice everything above will look in these spiffy glass mugs from Anchor Hocking. The large 14-ounce capacity gives everyone a hearty serving of hot chocolate. They're great for serving soup and other attractive beverages as well. The look is right, as is the price: six mugs for $16.62 (list price $26.38). Click here for more information.

25. Glass Cup with Stainless Steel Saucer

If you'd like something smaller, this beauty from Bodum has a 7-ounce capacity. The French design is oh-so-cool: the cups are clear glass, and the saucers are shiny stainless steel. They'll also look beautiful on your dinner table serving anything from soup to sorbet. The set of six cups and saucers is $59.95, and six matching espresso cups and saucers are available for $49.95. Click here for more information.

26. Irish Coffee Mugs

Not just for Irish coffee, these fun, footed mugs can be used for any warm beverage and even for desserts like parfaits, puddings and fruit salads. A set of six mugs is $14.95. Click here for more information.

Your Suggestion

What's Your Favorite Idea?

Click here to send us your favorite hot chocolate trick. We just might add it to this article!

Your idea can be in any of the categories above:

Recipes
Flavors
Garnishes
Serving Suggestions

Or it can be something completely different. Thanks for sharing your hot chocolate thoughts.
Grand Finale: Hot Chocolate Tasting
Here's a fun way to entertain kids and adults alike. Get five or six different brands of cocoa, from supermarket varieties up to the best gourmet stuff. Buy color-coded paper coffee cups, and give everyone a half cup of each to taste blind. Start with the first, discuss it: likes, dislikes, overall rating. Go through each one. Let everyone rank their favorites, then reveal the what they are. Not only is the activity fun, but it helps people develop their palates and learn how to discuss food.



Cocoa-licious Reading:
| | | |
| --- | --- | --- |
| | | |
| Hot Chocolate, by Michael Turback. Preeminent chocolatiers from around the world contribute more than 60 recipes, including Lavender-Pistachio Hot Chocolate; Maple-Whiskey Hot Chocolate Toddy; Nutella Hot Chocolate; Malted Milk Ball Hot Chocolate; and the famous Frozen Hot Chocolate from Manhattan's Serendipity 3. Click here for more information. | The True History of Chocolate, by Sophie D. Coe and Michael D. Coe. The history of chocolate from its earliest pre-Columbian roots, its discovery by the Spanish conquistadors, to modern times. Fascinating for any chocolate lover. Click here for more information. | Chocolate: The Sweet History, by Beth Kimmerle. For those just beginning to learn about chocolate, or those with a fundamental knowledge who want to solidify their learning, Kimmerle has put together a terrific primer. A NIBBLE Editor's favorite gift book. Click here for more information. |
© Copyright 2005-2014 Lifestyle Direct, Inc. All rights reserved. Photos are the copyright of their respective owners.