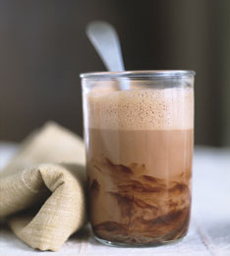 European-style hot chocolate means melting shavings, beads or disks of actual chocolate and adding boiling water or milk. That's what you do with Recchiuti Dark Hot Chocolate Pure Chocolate Pistoles, one of the favorites you'll read about.
STEPHANIE ZONIS is a contributing editor.
December 2006
Updated January 2009

Some Like It Hot: Cocoa & Hot Chocolate ~ Part 2
Page 2: Best Hot Chocolate & Cocoa
This is Page 2 of a 10-page review of hot chocolate and cocoa brands. Click on the black links below to visit other pages.
Best Cocoa & Hot Chocolate Brands
Whether for the holidays or Valentine's Day, the temperature and timing are perfect to bestow upon your favorite hot-chocolate lover some (or all) of these. Or, plan a New Year's Day or Valentine's Day Hot Chocolate Tasting Party. (Use our Wine and Chocolate Tasting Party planning guide as a template.)
Twenty-seven hot cocoa preparations and thirty-eight hot chocolate mixes were tested for this article. Most are from artisan chocolatiers and need to be purchased by mail order; but if your needs are more immediate and your budget is minimalist, or you don't want to wait for a mail order, Ghirardelli Chocolate Double Chocolate Premium Hot Cocoa is the favorite among those brands commonly available in supermarkets. While it's not competitive with the top brands, it's better than many other products we tried.
How to choose among the 65+ brands? A dozen stood out from the rest, and another 13 are runner-up. A number of the runners-up could have made it to the top tier if they had had better (or any) instructions, or if preparation had been less of a chore.
Favorites
Sentimental Favorite: Dorado Chocolates Hot Cocoa Mix. Granted, it's not really a mix at all, but chocolate-covered marshmallows that are melted to make the drink. The play-with-your-food aspect is irresistible, though, and two or three of these in a cup of hot milk are simply delightful.
Premium Brands ($15 or more per 8 ounces): Chocolate Springs Serious Hot Chocolate Mix, Enrico Rovira Chocolate a la Taza, Fiori Chocolatiers 70% Cacao Drinking Chocolate, Recchiuti Dark Hot Chocolate Pure Chocolate Pistoles, The Bent Spoon Euro-Style Hot Chocolate Mix, Woodhouse Chocolate Hot Chocolate.
Mid-Priced Brands ($7 to $14.99 per 8 ounces): Christopher Elbow Artisan Chocolate Cocoa Noir, Christopher Norman Rich Dark Chocolate Hot Chocolate, Dorado Chocolates Hot Cocoa Mix, Lake Champlain All Natural Old World Drinking Chocolate.
Bargain Brands (less than $6.99 per 8 ounces): Cadbury Drinking Chocolate, Ghirardelli.
Best Organic Product: Although this was not specificially a review of organic products, Lake Champlain Organic Fair Trade Hot Chocolate was the favorite of those that happen to be organic.
Runners-Up
Continue To Page 3: Hot Cocoa Brands A To C
© Copyright 2005-2015 Lifestyle Direct, Inc. All rights reserved. Photos are the copyright of their respective owners.