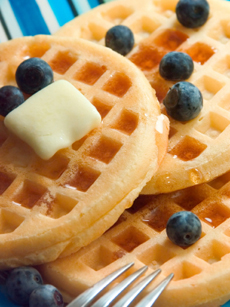 Waffles: the long evolution from prehistory to the 20st century toaster waffle, introduced in 1953. Photo by Kelly Cline | IST.

Waffle History
Page 3: Waffle Recipe Ideas
Waffle Recipe Ideas
Some might say that any waffle is a good waffle, and we wouldn't disagree. Others have never had anything beyond a plain waffle with maple syrup, butter and a side of bacon or sausage. Let us provide some inspiration.
First, look beyond plain wheat and buttermilk waffles to the more complex and interesting world of cornmeal, multigrain and whole wheat waffles. Just as those breads are generally more interesting than plain white bread, you may find that you enjoy the waffles more.
One comment on batter: We don't believe that sugar should be added to pancake waffle batter. You're already topping a sweet waffle with syrup, jam, ice cream and fudge sauce or other sugar product that's sweet enough, plus fruit. Think of it as toast topped with jam versus cookies topped with jam—leave the sugar out.
Next comment on waffle toppings: Let your imagination be your guide. Our list below is only the beginning for whatever inspires you. Who says you won't invent a great barbecue beef waffle, cornmeal guacamole waffle, nacho waffle, pickled tongue waffle or spicy poached egg waffle? (In fact, those all sound great to us right now!)
Sweet Waffle Recipe Ideas For Breakfast/Brunch Or Lunch
Serve with artisan maple syrup or a pecan syrup. Optional sides: fresh fruit and breakfast meat (bacon, ham, sausage).
Malted Waffle
Add 2-3 tablespoons of malt (the same kind you use for malted milk) to your basic recipe for a flavor lift.
Nutty Crunchy Waffle
Top with almonds, pecans or pistachios—or a blend.
Trail Mix Waffle
Top with nuts, dried fruits, coconut and granola.
Tricolor Chocolate Chip Waffles
Update the standard with dark, milk and white (or butterscotch, cappuccino
or PB chips).
Wholesome Waffle
Whole grain waffle topped with nonfat yogurt and fresh fruit.
Savory Waffle Recipe Ideas For Any Meal
Dessert Waffle Ideas
Candied Pecan Waffle
Candy roasted pecans top waffle with pecans and whipped cream.
Hot Fudge Sundae Waffle
Serve with ice cream, top-quality fudge sauce, strawberries and whipped cream.
Lemon Berry Waffle
Top with lemon curd (or other fruit curd) and seasonal berries. Garnish with whipped cream and fruit sauce (either puréed berries or a fruit syrup).
Sticky Bun Sundae
Top with cinnamon or vanilla ice cream, raisins and walnuts, garnished with a sprinkling of cinnamon and brown sugar (mixed). Add a very light drizzle of caramel sauce and whipped cream.
Continue To Page 4: Waffle Glossary
© Copyright 2005- 2015 Lifestyle Direct Direct, Inc. All rights reserved. Images are the copyright of their respective owners.