My name is Stephanie Zonis, and welcome to Whey to Go! Every month, we delve into a new cheese-related subject, and I offer a recommendation on a cheese I love.
By now, you've probably figured out that this article is about goat cheese. Hey, come back here! Where ya goin'? A lot of people tell me they don't like goat cheese; they find it, well, "goaty" and too strongly-flavored (so are some cheeses from cow's and sheep's milk). Some goat cheeses are like that, it's true, especially some imports made on farms where a billy goat is present, affecting hormonal qualities in a doe's milk. Yet, there are many goat's milk cheeses of remarkable delicacy. As with cow's and sheep's milk cheeses, they are made in a broad spectrum of varieties and intensities. Goat cheese has a universal appeal: It is available in the finest gourmet cheese stores and the most basic supermarkets.
Let's begin with a little goat history. Goats and humans have been together for a very long time. Evidence suggests that goat domestication began somewhere between 6000 and 7000 B.C.E. There are many breeds of goat, ranging from the rare Golden Guernsey, which originated in the Channel Islands of the U.K. and is famed for a milk ideal that is for cheesemaking, to the Myotonic or Wooden Leg, the so-called "fainting goat" of Tennessee and one of few breeds that originated in the U.S. (nobody knows exactly how, though). The most popular dairy breeds in the U.S. are the Alpine, La Mancha, Nubian, Oberhasli, Saanen and Toggenburg.
Goats are social animals and highly adaptable to many environments. All over the world they are valued producers of milk, meat, and wool (and in some cases, valued pets). In fact, worldwide, more people drink goats milk than drink cow's milk. Goats are famous for being quirky in their natures and even their diets. They'll nibble on just about anything to taste it, but they certainly don't eat the tin cans you see them munching on in old cartoons. Goats, browsers by nature, can tolerate a number of plants that humans cannot eat or digest safely, yet they produce wholesome milk from them. That's impressive!
Why Goat's Milk Is Different
Goat's milk has several advantages over milk from cows. Goat's milk is more easily digested than cow's milk, as the fat globules in goat's milk do not cluster together the way they do in bovine milk, making it easier for your system to break them down. Goat's milk is reputedly higher in short- and medium-chain fatty acids than cows' milk, and these acids are less of a challenge for human intestinal enzymes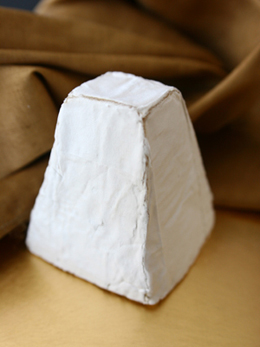 than the larger-chain fatty acids of cow's milk. Goat's milk contains less of certain proteins than cow's milk, important in that several of these proteins are held responsible for human allergies to milks. (There doesn't seem to be consensus on which proteins are responsible, but it is known that some people who cannot tolerate cow's milk have no problem drinking goat's milk.) Goat's milk also contains more of some nutrients than cow's milk. One caveat: Despite a common belief, goat's milk does contain lactose (nearly as much as is present in cow's milk), so it must be treated in one of several ways before the lactose-intolerant can consume it. Whiter in color than cow's milk, goat's milk is noted for its tangy flavor. Much of the taste will depend on what the goats were eating, as well as how they're cared for and how the milk was handled. Canned goat's milk has long been available in the U.S. for the lactose-intolerant, and fresh milk is slowly becoming more available. In some cases, goat's milk is obtainable unpasteurized, or "raw"; regulations on this vary by state. Goat cheese butter is also available, and the Meyenberg goat butter, which one first place in its category in this year's American Cheese Society competition (and is a NIBBLE Top Pick Of The Week), is sublime—butter with a slight chèvre flavor that has become the butter of choice at THE NIBBLE offices.
Photo: A classic goat pyramid, a shape used for aged goat cheese. Cheese from Cypress Grove Chevre, photo by B.A. Van Sise.
Types Of Goat Cheese
But this is a cheese column, so it's time to move on to milk's leap to immortality, as cheese has been called. Goat cheese is available fresh or aged. If you're not used to eating it or prefer milder tastes, you might want to start with a fresh goat cheese. They're usually soft-textured and milder in flavor than their aged siblings. Think you'll get bored with a mild flavor? I doubt it, when you consider the vast range of flavors offered for sale. Fresh chèvre (chèvre is the French word for both "goat" and "goat cheese") is often shaped into logs or sold in tubs. It may be plain, blended with almost any kind of herb you can imagine, flavored with pepper or sun-dried tomato or olives, or sweetened with honey.
Because fresh goat cheese is mild, it doesn't overwhelm the flavors combined with it.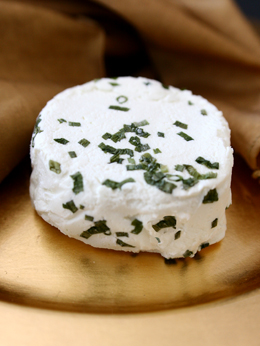 And aged goat cheeses aren't necessarily "goaty," either. As you'd expect, much of this depends on type of cheese, how it's made, and the aging process. There are goat Bries and goat blues. Want a goat cheese Gouda? If you can think of a type of cheese, someone somewhere is probably making it with goat's milk. While many people think of France when they think of goat cheese, it is made in many countries. In the U.S., some artisanal brands win world competitions and have achieved national brand awareness: Coach Farms, Cypress Grove Chevre, Lazy Lady Farm and Laura Chenel's Chevre are a few.
Photo: A round of Cypress Grove Chevre's fresh goat cheese, accented with fresh chives. Photo by B.A. Van Sise.
I have found some good goat cheeses in upscale local supermarkets, but overall I prefer to buy them from a specialty retailer or directly from the producer. They are more likely to be knowledgeable about the cheeses, including the proper ways to handle and store them as well as serving suggestions. Producers and specialty retailers will often carry smaller and more local brands, as well. But no matter where you buy them, just make sure you try them!
Take a look at some ideas on hosting a cheese tasting party, where you and your guests can taste half a dozen or more different cheeses.