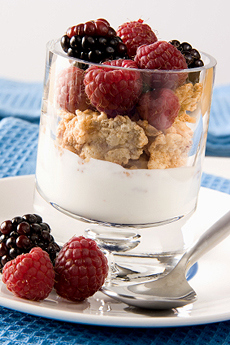 Award-winning yogurt so silky, it could pour over cereal or fruit like a wonderful, thick sauce. Photo by Joan Vicent Cantó Roig | IST.
September 2007
Updated June 2008

Liberté Yogourt
Goat Yogurt Plus Award-Winning Plain Yogurt From Canada That Are Delicious, All Natural & Probiotic
CAPSULE REPORT: At this year's American Cheese Society Competition, the top-rated cow's milk yogurt wasn't even American, but our neighbor to the north—the Canadian manufacturer Liberté—although the milk comes from Vermont cows. Liberté Yogourt was honored for for its probiotic Lowfat 2% yogurt, made with a high level of acidophilus and bifidus cultures. Perhaps it's the silky-smooth texture—it's almost like a thick sauce rather than a pudding-like yogurt, and you've never tasted anything creamier (it's certified kosher, too). As far as the goat yogurt is concerned...it's not baaad. (No, it's goood.)
In the name of full disclosure, one of Liberté's other yogurt lines, Méditerranée Yogourt, is our favorite flavored yogurt in the world. With 8% milkfat, as opposed to the 5% in most whole milk yogurts, it tastes more like clotted cream than yogurt. We're happy to eat the strawberry flavor for dessert instead of pastry, it is so rich and luscious.
This two Liberté lines in this review might not earn "luscious," but each has its own delicious uniqueness. The Plain Lowfat Yogourt is the queen of creaminess, and the Goat Yogourt is charming, a slight touch of goat that will delight lovers of chèvre. (Yogourt, by the way, is the French spelling of yogurt; Liberté is produced in Quebec by a company with the full name of Les Produits de Marque Liberté, Inc.)
Plain Yogurt
Liberté's 2% Plain Lowfat Yogourt was the winning cow's milk yogurt at this year's American Cheese Society Competition. It took third place in the Cultured Products/Cow's Milk category, the first place winner was a yogurt-cream cheese blend and second place went to a cottage cheese.
Besting all of the other artisan and boutique yogurts entered, Liberté showed that, as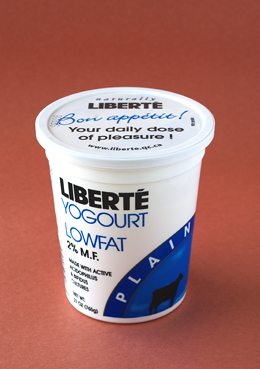 with its Méditerranée and Six Grains lines, it has a different take on something as basic as plain yogurt.
First there's the consistency. This is not a pudding-like yogurt filled with stabilizers, but the smoothest, silkiest yogurt you can imagine (in fact, the only ingredients are low fat milk and bacterial culture). It can pour like a thick sauce over fruit, cereal or vegetables and work as a spread on bagels, muffins and toast. It's the perfect consistency for tzatziki or raita, yogurt-based salad dressings and other recipes.
Then, there's the taste. It's easy to say that this is the creamiest yogurt we've ever had, with a slight tang; but "creamy" means different things to different people. This yogurt has something we've never experienced before: a real milky flavor. It's very special. The milk is rBGH free, and the yogurt is certified kosher.
There's also a version made with 0% milkfat—we haven't been able to get a container but when we do, we'll report back.
Probiotic Yogurt
This yogurt does more than taste good, as the old advertisements used to clamor: It's good for you! The bacterial cultures, acidophilus and bifidus, are Bioghurt cultures. Unlike most strains of L. acidophilus and bifidus, Bioghurt cultures are capable of surviving the strong acids and bile in the upper digestive tract and can successfully colonize in the intestines, making them probiotic. While there has been much written about probiotics in the news lately, all of the Liberté yogurts contain all of the essential probiotic bacteria that are essential to a healthy system. In an independent study, a CBC (Canadian Broadcasting System) program found that Liberté yogurts had the largest concentrations of probiotics on the market. Liberté says, "To us it was just business as usual, we have always included probiotics and did not feel that it was necessary to flaunt it on our packages." And they don't—the word probiotic doesn't even appear. Given the consumer decision-making process, they should add it the next time they re-print their packaging: Why should probiotic-seeking consumers be swayed from this delicious yogurt because they don't know what Bioghurt means?
Read more about probiotic yogurt.
Fresh Goat Cheese
The Liberté known as Goat Yogourt, (shown in the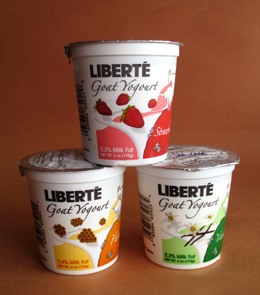 photo with the brown background, at the right) has been replaced with a different product called Goat Fresh Cheese (shown in the photo with the light background, below). The products taste similar and the cartons look exactly the same, except the words "Goat Yogurt" have been replaced with "Goat Fresh Cheese." This will, no doubt, confuse American consumers, who think of "fresh goat cheese" as something spreadable on a baguette, and something in a yogurt-type container that is eaten with a spoon as "yogurt."
Why did they do that, you ask, and what exactly is Goat Fresh Cheese?
By FDA's definition, in order for a product to be called yogurt, it needs to be fermented with both Thermophilus and Bulgaricus cultures. There is no Bulgaricus in the Goat Fresh Cheese.

In order for a product to be classified as a cheese, the milk must be fermented with an enzyme, and the curd must be separated from the whey. Both are true with Goat Fresh Cheese (an ultra-filtration process removes excess water in the milk and acts as "the separation of the curd").

Goat Fresh Yogurt has been classified as a non-standardized fresh cheese. There are other cheeses that can be mistaken for yogurt based on their look and taste (

fromage blanc

,

skyr

and

quark

, for example); but they technically are cheese. Read about the

different types of fresh cheese

.

With goat yogurt, on the other hand, the milk is not fermented with an enzyme, but cultured by bacteria.similar to both

quark

and

crème fraîche

. Many people can't tell it apart from yogurt, except that it can be a bit sweeter.
What's true for the goat yogurt is true for the "goat fresh cheese." Goat's milk yogurt is enjoyed by three types of people: the lactose-intolerant, who can't easily digest cow's milk; people who simply love yogurt, and enjoy as many different types as they can; and those who adore goat cheese, since the same taste of fresh goat cheese lightly underscores each spoonful of goat yogurt.
The yogurts are all-natural with more body, like a typical artisan yogurt. The fruit yogurts are made with organic fruit, and the active cultures include bifidus, L. acidophilus, L. Bulgaricus, and S. Thermophilus. The vanilla and honey flavors have a slightly different texture than the fruit flavors. Because there are no pieces of fruit, they are silky-smooth—thicker textural cousins of the 2% nonfat. The slight touch of honey and goat flavor transported us to the Aegean.
LIBERTÈ MÈDITERRANÈE YOGOURT

Certified kosher by MK

27-Ounce Carton Plain
$3.99
Suggested Retail Price
6-Ounce Carton Plain
$.99
Suggested Retail Price
6-Ounce Carton Goat
$.99
Suggested Retail Price

Available at some Whole Foods Markets and other fine retailers. To find a retailer near you, use the Contact form on the website.

Prices and product availability are verified at publication but are subject to change.




Photo of Plain Yogourt at top by Dhanraj Emanuel. Photo of Goat Yogourt by Victoria Marshman. Photo of Goat Fresh Cheese courtesy of Les Produits de marque Liberté.
For more information about Les Produits de Marque Liberté, visit
Liberte.qc.ca
© Copyright 2005-2015 Lifestyle Direct, Inc. All rights reserved. Images are copyright of their respective owners.