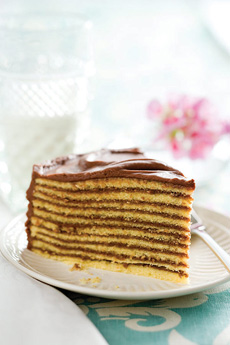 A Smith Island Cake means lots of layers, lots of frosting. Photo courtesy CBCrabcakes.com.
June 2008
Last Updated July 2014


Different Types Of Cake
Cake Glossary Page 7: Sacher Torte & Other Cake Terms With S
See the different types of cake on Page 7 of our eight-page glossary, featuring cake terms beginning with S, including Sacher Torte, savarin and streusel. Click on the letters below to visit other pages.
Click on a letter to go to the appropriate glossary page.
a b c d e f g h i j k l m n o p q r s t u v w x y z
This glossary is protected by copyright and cannot be reproduced in whole or part.
You are welcome to link to it.
SACHER TORTE or SACHERTORTE

Sacher torte is perhaps the most famous pastry of pastry-rich Vienna. A chocolate sponge cake cut into three layers and filled with apricot jam; the whole cake is iced with a velvety chocolate ganache. Because tortes are wider and shorter than cakes, the three layers are generally shorter than a two-layer gâteau or American cake. Sacher torte was invented in 1832 by a 16-year-old apprentice to pastry chef Franz Sacher (1816-1907), who held his wits under duress.


Sacher torte from Burdick Chocolates.
The Austrian State Chancellor, Prince Metternich (1773-1859), sent orders to the kitchen to create a new cake. The head chef was out sick, the cooks panicked, and young Sacher rolled up his sleeves and got to work, creating an instant—and eternal—success. In the U.S., raspberry jam is often used instead of apricot jam.
SALLY LUNN'S CAKE
One of the older cakes, baked since the 1600s, Sally Lunn is a sponge cake-like sweet bread that can be baked as a loaf, a tube cake or buns.
SAVARIN

A savarin is a yeast cake baked in a ring mold, then soaked in a rum syrup. The center is filled with pastry cream, crème Chantilly or fresh fruit. The Orange Rum Savarin at right was baked in a bundt pan. You can get the recipe from the American Egg Board, aeb.org.




A savarin. Photo courtesy American Egg Board.
SEVEN LAYER CAKE
A variation of the Hungarian Dobos Torte, a cake made of five, six or seven thin layers filled with chocolate buttercream. Also see the Smith Island Cake below, another variation.
SEVEN-MINUTE ICING
A classic, fluffy white frosting made from egg whites, sugar, cream of tartar, light corn syrup, vanilla extract and water. Since it is not cooked, it has fallen somewhat out of favor by those who are concerned over salmonella; pasteurized meringue powder can be substituted for the fresh egg whites.
SHEET CAKE

A single-layer cake baked in a large, rectangular pan, frosted and generally decorated. Sheet cakes are baked for large crowds and can be cut in larger squares or in small enough pieces to be served as finger food.


A sheet cake. Photo courtesy of VanillaOrchidCakes.com

.
SHORTCAKE

The original shortcake concept, from the U.K., is a sweet, baking soda- or baking powder-biscuit or scone, split in half, piled with fruit (berries and stone fruit are most popular) and whipped cream, and topped with the other half, often with more fruit and whipped cream on top. As the concept evolved, many "shortcakes" are not traditional shortcakes, but sponge cakes or even corn muffins. Compare this biscuit shortcake to the sponge cake shortcake below.




Strawberry shortcake. Photo by Justine Gecewicz | IST.
SIMNEL CAKE

A simnel cake is a light fruit cake with marzipan, traditionally made during Lent or at Easter, in the U.K. and elsewhere. It is made from white flour, sugar, butter, eggs, spices, dried fruits, zest and candied peels; then covered in marzipan, with a layer of marzipan or almond paste baked into the center of the cake. The top is covered with marzipan and decorated with 11 marzipan balls around the rim, representing the true disciples of Christ; Judas is omitted. In some variations, Christ is represented by a marzipan ball in the center. The cake dates to medieval times. The word "simnel" may be derived from the Latin word, similia, meaning "fine."




Simnel cake. Photo courtesy Wikimedia.
SMITH ISLAND CAKE

Like chocolate icing? This may be the cake for you. Smith Island, off the shore of Maryland in Chesapeake Bay, is well-known throughout the state for its Smith Island Cake, 6 to 12 thin layers of yellow cake sandwiched with chocolate fudge icing. Originally, the cake (which may date back to the settlers of the late 1600s) had four layers, but through one-upsmanship, the island's bakers piled them up; they are now 10 layers.





Smith Island cake. Photo by Ferne Arfin. For more information visit SmithIsland.us.
Both the cake and the icing use evaporated milk. Smith Island Cake is the official cake of Maryland. You can get the cakes via mail order.
SPONGE CAKE

A sponge cake is a light-textured cake made of eggs, sugar and flour; there is no fat or leavening, but it is critical to beat air in at key stages of preparation. It is baked in cake pans, tube pans or sheet pans; after it is baked, the airy cake is still flexible, and can be used to make rolled cakes such including Bûche de Noël. The basic sponge cake recipe is also used to make ladyfingers and madeleines; slices are also used instead of biscuits to make strawberry shortcake. Since sponge cakes are not leavened with yeast, they are often enjoyed during Passover, made with matzo meal instead of wheat flour. Sponge cake is very versatile cake and can be variously flavored and filled. See fillings.





A strawverry shortcake made with sponge layers instead of a biscuit. Photo © Barbara Helgasonake | Fotolia.
SPONGE ROLL or ROULADE
A sponge cake recipe that is rolled up with a filling. Examples include the jelly roll and Bûche de Noël, or Yule log. See roulade.
SPICE CAKE
A category of casual cakes that is flavored with one or more of a group of spices that include allspice, cinnamon, clove, ginger and nutmeg. The cakes are generally darker due to the inclusion of brown sugar and/or molasses.
SQUASH CAKE

A rustic cake with a large crumb that is usually made as a simple loaf or bundt, sometimes with cream cheese frosting. Zucchini cake is an example of a squash cake, although winter squash such as acorn, butternut, sugar pumpkin and kabocha are also used. Winter squash is cubed, cooked and pureed, whereas summer squash like zucchini, and other vegetables such as carrots and beets, are moister and generally grated and added to the batter. The difference between a recipe called "cake" and one called "bread" is that a bread is slightly drier (less butter or other fat) and baked in a loaf pan. See our Squash Glossary for the different types of squash. FOOD TRIVIA: While squash is thought of as a vegetable, it is botanically a fruit, defined by carrying its seeds inside. Strawberries are the one exception to the rule.


Squash cake. Photo courtesy WholesomeSweeteners. Get the recipe.
STOLLEN

Stollen is a dry, bread-like yeast fruitcake that typically contains butter, dried citrus peel and other dried fruit, plus nuts, cinnamon and other spices, and sometimes, marzipan. It is sprinkled with confectioners' sugar. Stollen is a traditional German holiday cake. Over the centuries, the cake changed from being a simple, bland and dry oat bread to the current form. Traditional Stollen is dense and firm, not as sweet, light and airy as the versions made in the U.S. There is an annual stollen festival in Dresden.




This stollen is available from EliZabar.com.
STRAWBERRY CAKE

A strawberry cake is a white cake recipe enhanced with strawberries. Fresh, frozen or dried strawberries can be added to the cake batter, or strawberry purée (or, in a more commercial cake, red food color and strawberry flavoring) can be blended in to create a pink cake, as in the photo below. While the cake shown here is ready for mail order, and thus not garnished with fresh fruit, you should decorate your strawberry cake with fresh strawberries!


This gourmet strawberry cake is made with fresh strawberries and a cream cheese frosting, is available from LittonDirectToYou.com. Photo © Litton Direct To You.
STRAWBERRY SHORTCAKE

While classic shortcakes are made on a biscuit base (see shortcake, above), many people now prefer the layer cake style of "strawberry short cake"—although a layer cake is not a "short cake." Here, fresh strawberries and whipped cream are used to fill a yellow cake. The top of the cake can be edged with strawberries. In the photo at right, crushed almonds add another flavor dimension.




Strawberry shortcake in the more modern, layer cake style. Photo courtesy CBCrabcakes.com.
STREUSEL

Streusel is a crumb topping of butter, flour and sugar; it can contain chopped nuts or rolled oats. Pronounced SHTROY-zul, the word derives from the German "streuen," meaning to sprinkle or scatter. Streusel is used as a topping for a variety of pies, fruit crisps, cakes and pastries, most notably coffee cakes. You can find this recipe at cinnamon crumb cake recipe at McCormick.com.


There's almost as much streusel as cake in this tasty version. Photo courtesy McCormick.
SYMPHONY CAKE
A Symphony Cake is a vanilla gènoise filled with chocolate and raspberry mousse and fresh raspberries, and circled by ladyfingers.
Go To Next Page: Terms With T - Z
© Copyright 2005-2015 Lifestyle Direct, Inc. All rights reserved. Images are the copyright of their individual owners.