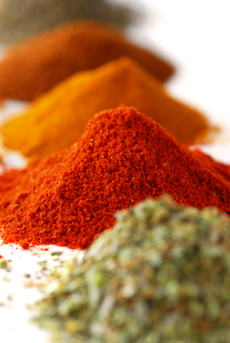 The right spices are more than flavorful, fragrant and colorful: They have antioxidant properties, too. Photo by Elena Elisseeva | IST.
July 2008
Updated June 2009

Antioxidant Spices: Cinnamon
Seven "Super Spices" That Help Fight Cancer, Illness And Aging
This is Part II of an eight-part article. Here, we explore cinnamon. Use the index immediately below to navigate from page to page.


Cinnamon
| | |
| --- | --- |
| Cinnamon is the fine inner skin of the fragrant tree bark of cinnamon and cassia trees, which grow wild throughout Asia. There are two principle types of cinnamon: Cassia, or "Saigon," and Ceylon. Cassia cinnamon, which comes from the cassia tree, is native to Southeast Asia, especially southern China and northern Vietnam. It has the strong, spicy-sweet flavor most Americans are familiar with. The second type of cinnamon, Ceylon, has a much different flavor: a less sweet, more complex, citrusy flavor. Ceylon cinnamon is also known as "old-fashioned cinnamon." The special flavors of English and Mexican sweets comes from Ceylon cinnamon. | One teaspoon of cinnamon has more antioxidants than a cup each of spinach, broccoli, red cabbage and asparagus put together. Photo courtesy of McCormick. |
Of the Seven Super Spices, cinnamon has the most antioxidants by far, and is probably the most versatile, to boot. Just one teaspoon of this spice contains 6,956 ORAC units. Its spicy-sweet flavor makes it the perfect touch in everything from cookies to stew. Get a huge shot of antioxidants by adding cinnamon to the foods you already eat every day: coffee, hot cocoa, cereal, vegetable soups—cinnamon is appropriate for dishes both sweet and savory.
Click here to learn how to make Moroccan Bean & Pepper Stew and Mango-Blueberry Cobbler, two delicious recipes from McCormick that include plenty of cinnamon.
Go To The Index At The Top Of The Page
All material © Copyright 2005- 2015 Lifestyle Direct, Inc. All rights reserved. Images are copyright of their respective owners.