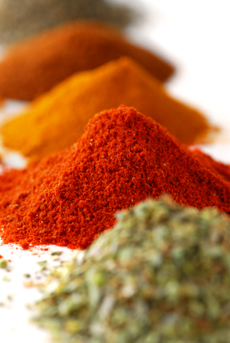 The right spices are more than flavorful, fragrant and colorful: They have antioxidant properties, too. Photo by Elena Elisseeva | IST.

Antioxidant Spices: Red Chile Pepper
Seven "Super Spices" That Help Fight Cancer, Illness & Aging
This is Part V of an eight-part article. In this section, we take a look at red chile pepper. Use the index immediately below to navigate from page to page.


Red Chile pepper
Turning up the heat with chile peppers can help you crank up the antioxidants. Capsaicin is the powerful compound in chile peppers that gives chiles their heat. The hotter the chile, the more capsaicin (and antioxidants!) you'll find. Cayenne or ground red pepper contains the most. Yet all red chiles—including chili powder and the milder paprika—are good sources of antioxidants.

Like many of the Seven Super Spices, red chile peppers also have medical uses. In Western medicine, capsaicin is used as a circulatory stimulant and pain reliever in topical medications.

Make guacamole and other thick dips extra delicious with a generous addition of red chile pepper. Use paprika for mild heat or chile powder if you prefer it hot. Photo courtesy of McCormick.
The different forms of red chile pepper have antioxidant levels ranging from paprika's 376 ORAC up to chile powder's 615 ORAC. And despite their potential spiciness, they're easier to incorporate into your daily meals than one would expect. You probably already add red chile pepper flakes to your pizza. Try sprinkling paprika on eggs or hummus for an extra kick of flavor. And for a slightly sophisticated appetizer, mix chile powder, salt, pepper and Parmesan cheese into a pool of olive oil for bread-dipping.
Click here to learn how to make Classic Chicken Paprika and Cayenne-Cinnamon Ribs with Maple Glaze, two delicious recipes from McCormick that include plenty of red chile pepper. Learn more about chiles in our Chile Glossary.
Go To The Index At The Top Of The Page
All material © Copyright 2005- 2015 Lifestyle Direct, Inc. All rights reserved. Images are copyright of their respective owners.