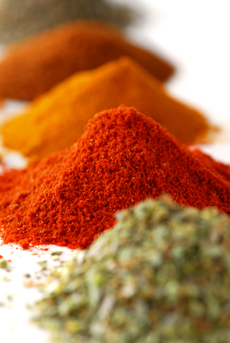 The right spices are more than flavorful, fragrant and colorful: They have antioxidant properties, too. Photo by Elena Elisseeva | IST.

Antioxidant Spices: Ginger
Seven "Super Spices" That Help Fight Cancer, Illness & Aging
This is Part III of an eight-part article. Here, we explore ginger. Use the index immediately below to navigate from page to page.


Ginger
Ginger is a wonderfully pungent spice with a long history of cultivation. It can be bought in many forms, including the fresh root, dried root, powdered or crystallized. Its strong fragrance is a result of its containing up to 3% essential oil.

In China, where ginger originated, as well as in other Asian countries, the spice is used in a multitude of both savory and sweet dishes, eaten raw or pickled and even made into candy. In the U.S., ginger is especially associated with holiday baking, thanks to the western tradition of making gingerbread cookies at Christmas.

One teaspoon of ground ginger has as much antioxidants as a cup of spinach. That's right—you're eating those gingerbread cookies for your health! Photo courtesy of McCormick.
Ginger also has a number of medicinal uses, including treatment of dyspepsia, colic, gallstones and nausea caused by seasickness, morning sickness and chemotherapy. Its 519 ORAC units antioxidant level per teaspoon also helps fight age-related illnesses.
Consume more ginger by adding its powdered form to yogurt or lemonade, sprinkle some on peaches, pears, cantaloupe, pineapple or honeydew melon, or use ginger candy as a breath-freshener instead of sugary mints.
Click here to learn how to make Crunchy Asian Slaw and Asian Chicken & Vegetables in Gingered Broth, two delicious recipes from McCormick that include plenty of ginger.
Go To The Index At The Top Of The Page
All material © Copyright 2005- 2015 Lifestyle Direct, Inc. All rights reserved. Images are copyright of their respective owners.