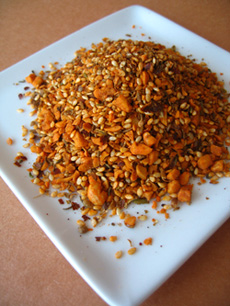 Smoky Hot Oregon Dukkah. Photo by Emily Chang | THE NIBBLE.

Dukkah Recipes
Page 5d: Watermelon & Feta Salad & Zesty Wild Rice Salad
These recipes were developed by Chef Donna Dockins, creator of Oregon Dukkah. This is the fifth of five pages of side dishes with dukkah. Click on the black links below to visit other pages.
Dukkah Recipes
If you cannot obtain Oregon Dukkah, you can make your own dukkah from the dukkah recipe, seasoning it appropriately.
Serves 4-6.
Ingredients
8 cups of chilled seedless sweet watermelon, cubed
1 cup of crumbled feta cheese
¼ cup of Italian parsley or fresh basil, chopped
Preparation
In a large bowl, gently mix watermelon, feta cheese, and parsley together.
Sprinkle Oregon Dukkah, mixing again to coat. Serve chilled.
Zesty Wild Rice Salad With Fruit
Yields: 4 servings.
Ingredients
2 1/2 cups water
1 cup wild rice
3 tablespoons lemon juice
2 teaspoons olive oil
2 teaspoons honey
2 kiwis or fresh apricots, peeled and diced
1 cup seedless red grapes, halved
2 tablespoons Zesty Oregon Dukkah
Preparation
Place water in a medium saucepan and bring to a boil. Add rice, reduce heat to low and simmer, covered, for 45 minutes or until tender. Drain excess liquid, cover and let cool.
Whisk together lemon juice, oil and honey in a small bowl until honey is dissolved. Season with salt and pepper.
Place cooled rice in a salad bowl along with kiwi or apricots, red grapes and Zesty Oregon Dukkah. Add dressing, and gently toss.
Continue To Page 6: Dukkah Recipes ~ Main Dishes
© Copyright 2005- 2015 Lifestyle Direct, Inc. All rights reserved. Images are the copyright of their respective owners.