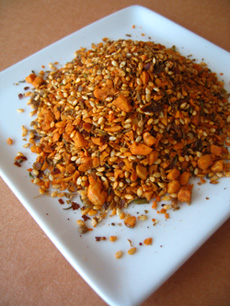 Smoky Hot Oregon Dukkah. Photo by Emily Chang | THE NIBBLE.

Dukkah Recipes
Page 5c: Quinoa Bean Corn Salad & Sweet Potato Salad
These recipes were developed by Chef Donna Dockins, creator of Oregon Dukkah. This is the fourth of five pages of side dishes with dukkah. Click on the black links below to visit other pages.
Dukkah Side Dish Recipes
If you cannot obtain Oregon Dukkah, you can make your own dukkah from the dukkah recipe, seasoning it appropriately.
Quinoa, Black Bean & Corn Salad
Makes 8 servings.
Ingredients
Preparation
Whisk balsamic vinegar and lime juice in a bowl to blend. Gradually whisk in 1/3 cup oil. Season vinaigrette to taste with salt and pepper.
Heat 1 tablespoon oil in heavy large skillet over medium heat. Add green onions; sauté 30 seconds. Add corn and black beans; sauté until corn is crisp-tender, about 5 minutes. Season with salt and pepper. (Vinaigrette and corn mixture can be prepared 1 day ahead. Cover separately; chill. Re-whisk vinaigrette before using.)
Mix quinoa, corn mixture an Oregon Dukkah in large bowl. Mix in vinaigrette and cilantro. Season salad with salt and pepper.

Sweet Potato Salad with Smoky Hot Oregon Dukkah
Ingredients
4 medium sweet potatoes
4 green onions, thinly sliced
2 celery ribs, halved lengthwise and
sliced on the diagonal (about 2/3 cup)
1/4 cup olive oil
1/2 lemon, juiced
3 tablespoons orange juice, fresh
1 tablespoon soy sauce
(reduced sodium is fine)
1 garlic clove, minced
3–4 tablespoons of Smoky Hot Oregon
Dukkah
1/4 teaspoon sea salt
1/4 teaspoon black pepper, freshly
ground
Fresh cilantro, chopped
Preparation
Preheat oven to 400°F.
Rinse and peel the sweet potatoes. Cube into ½" pieces, coat with olive oil and bake until tender when pierced with a knife, about 25-30 minutes. Set aside to cool.
When cool enough to handle, transfer potatoes to a large bowl. Add green onions and celery. Set aside.
Combine the remaining ingredients in a large measuring cup. Whisk well. Pour over the potato mixture. Add Smoky Hot Oregon Dukkah and stir gently to coat, but avoid breaking up the potatoes. Gently stir in chopped cilantro. Serve.
Continue To Page 5d: More Dukkah Recipes ~ Side Dishes
© Copyright 2005- 2015 Lifestyle Direct, Inc. All rights reserved. Images are the copyright of their respective owners.