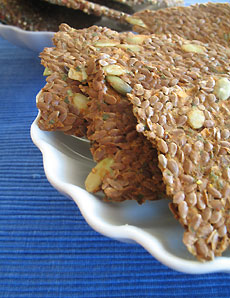 CAREY POLIS is a writer in New York City.

Yaya's Raw Rah
Three Cheers For Inventive Organic Crackers
CAPSULE REPORT: It can be difficult to find an organic, raw-food cracker that tastes good to mainstream eaters. Yaya's Raw Rah crackers fit the bill. They are dehydrated instead of baked to retain nutrients, and are full of organic ingredients such as flax seeds and vegetables. The organic crackers can serve as a stand-alone snack, but they certainly don't have to. We loved eating the five flavors with soft goat cheese.
Specialty food buyers and raw food folks don't necessarily overlap. Raw food tends to be more severe, not sensuous. But yaya (grandma) Patricia Greer has developed a line of very attractive, crunchy raw crackers that cross over, and have appeal to food enthusiasts looking for something new and different.
Yaya developed her organic crackers from the leftover organic produce at her Houston co-op. These snacks are wheat-free, gluten-free, yeast-free, have zero trans fats and are entirely raw. People who seek the superior nutritional benefits of raw food (food produced at temperatures below 140°F, to preserve all the inherent nutrients) will enjoy tasting this crunchy, flavorful line.
All varieties are jam-packed with seeds—in other words, they even look healthy. In terms of health benefits, flax seeds (and sunflower seeds) may offer the same heart health benefits as walnuts and almonds. Walnuts and flax seeds have a significantly higher amount of alpha linolenic acid compared to other nuts and seeds. Linolenic acid is a plant-derived omega 3 fatty acid, similar to the omega 3 fatty acid found in salmon, which many studies show lowering total cholesterol and LDL cholesterol (the bad cholesterol) levels.
Between retained nutrients and omega 3s, the health benefits are certainly superior to refined wheat crackers. The seeds are also visually arresting—an attractive addition to the plate. For some palates, the crackers might be a bit shocking in both taste and texture, but among the five flavors, at least one should jive with most taste buds.
Cracker Flavors
Serving Suggestions
We recommend trying sweeter toppings, such as a mango chutney or an orange marmalade, on the Onion Flax and Spicy Flax crackers. The other three flavors need a more savory companion. Or try breaking apart the crackers and serving them atop salads in place of croutons. Yaya herself suggests pairing the organic crackers with the following:
Onion Flax: avocado, salsa and parsley
Sicilian Herb: tapenade, tomato and basil
Spicy Flax: avocado, red bell pepper, cilantro
Spinach Curry: chutney, red pepper and cilantro
Tomato Basil: tomato, pesto, red bell pepper or jalapeño
Get out your pom poms and cheer for Yaya. And applaud yourself for making more nutritious choices.
Onion Flax, Sicilian Herb, Spicy Flax, Spinach Curry and Tomato Basil Organic Crackers

4-Ounce Package
$5.99
(Minimum 3 Boxes
Online Order)
Case of 18
$79.20

Purchase online* at
YayasRawRah.com

Available at natural food stores nationwide.

The five flavors taste completely different, so try them all to find the ones you like best.
*Prices and product availability are verified at publication but are subject to change. Shipping is additional. These items are offered by a third party and THE NIBBLE has no relationship with them. This link to purchase is provided as a reader convenience.
Recent Articles From Our NutriNibbles™ News Feed:
Subscribing notifies you whenever there are
new additions to the NutriNibbles™ section.

Subscribe to THE NIBBLE™ NutriNibbles™ by Email
© Copyright 2005-2015 Lifestyle Direct, Inc. All rights reserved. Images are the copyright of their respective owners.