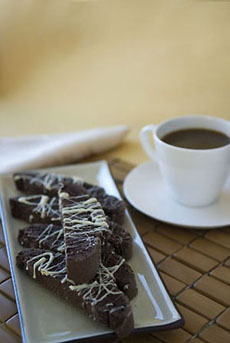 These soft, Double Dark Chocolate biscotti from Way North Foods won't break the bank—or your teeth! Photo by Corey Lugg | THE NIBBLE.

Gourmet Stocking Stuffers: Sweet
2009 Picks For Treats With Big Taste, Under $10.00
Delicious things come in small packages...and at small prices, too. Here, we present a selection of sweet stocking stuffers, all with single-digit price tags. And we have even more ideas: Check out our Savory Gourmet Stocking Stuffers and prior year's stocking stuffers.
Prices and product availability are verified at publication but are subject to change. Shipping is additional. These items are offered by a third party and THE NIBBLE has no relationship with them.
Effie's Homemade:
Oatcakes

We weren't quite sure of what an oatcake meant (a pancake made with oats?). But the minute we tasted these crisp, lightly sweetened biscuits with their delightful nutty flavor, we couldn't stop eating them. They're wonderful plain with tea, with jam or cheese or to accompany ice cream. One order includes six bags, so you can give some as gifts and save some for hostess gifts.

Effie's Homemade Oatcakes
7.6-Ounces Bag
$6.00
Minimum Order 6-Pack ($36.00)

Buy online at EffiesHomemade.com, or see store locator


Photo courtesy Effie's Homemade.

Hot Lips Specialty Food:
Sweet & Spicy Pepper Jelly

Pepper jelly is one of our favorite treats. We use this sweet and spicy condiment with everything from cheese & crackers to sandwiches to vanilla ice cream. Hot Lips Specialty Foods make a delicious version. A little milder than most pepper jellies, and flecked with red pepper flakes, this jelly is both a palate-pleaser and a beautiful garnish. With its jewel-like color, your recipient will likely pop it open for Christmas. The Raspberry Chipotle Sauce is also very good, and the Hot Salsa, though not a thick style for dipping, makes an excellent sauce for fish and poultry.

Hot Lips Red Pepper Jelly
9-Ounce Jar
$6.00

Buy online at PacificWestFoodworks.com




With cream cheese and crackers, you've got a quick and easy hors d'oeuvre. Photo by Hannah Kaminsky | THE NIBBLE.

Olympic Granola Bars

We're not exaggerating: These are the best granola bars we've ever had. Although they call themselves "gourmet granola bars," the experience is tantamount to eating a dense nut torte. You can put a scoop of ice cream on top of them! Whether you give just one ample bar or several, the recipient will be very happy. Read our review of Olympic Granola Bars, a NIBBLE Top Pick Of The Week.

Box Of 18 3-Ounce Bars
Assortment Or Single Flavor
$49.99 ($2.72 Each)

Buy online, or find store locator, at StonewallKitchen.com




Our favorite granola bars. Photo by Hannah Kaminsky | THE NIBBLE.

Stonewall Kitchen:
Eggnog Pound Cake Mix

For friends who like to bake, this richly flavored Eggnog Pound Cake Mix makes a moist and delicious cake that is perfect for holiday entertaining. The eggnog flavor is true; the red and green striped packaging adds to the festiveness. If you're lucky, the recipient may share a slice with you as a token of thanks!

Eggnog Cake Mix
18-Ounce Box
$9.00

Buy online, or find store locator, at StonewallKitchen.com




Buttery and moist, for easy Christmas entertaining. Photo by Hannah Kaminsky | THE NIBBLE.

Stonewall Kitchen:
Gingerbread Pancake & Waffle Mix


Stonewall Kitchen offers pancake and waffle mixes in a number of holiday flavors, but our favorite is the Gingerbread. The aroma and flavor of this spiced pancake and waffle mix make it the ideal choice for holiday breakfasts. It's a seasonal treat that's sure to please.

Gingerbread Pancake & Waffle Mix
16-Ounce Container
$8.50

Buy online, or see store locator, at StonewallKitchen.com


Who wants pancakes? Photo by Hannah Kaminsky | THE NIBBLE.


Tillen Farms:
Merry Maraschino Cherries

The maraschino cherry is no longer a joke. Tillen Farms has created a delicious, all natural maraschino cherry—no artificial colors or flavors, no sulfites or preservatives, no high fructose corn syrup. Now you can bring peace of mind to parents and happiness of palate to hot fudge sundaes and Shirley Temples, not to mention adult fare like a Tom Collins or a Manhattan. Buy a few jars for stocking stuffers, or a 12-pack for hostess gifts.

Tillen Farms Maraschino Cherries
14-ounce jar
$6.99
12-pack
$76.68 (save $7.20)

Buy online at TillenFarms.com




You'll enjoy maraschino cherries for the first time in your adult life. Photo courtesy Tillen Farms.

Way North Foods:
Gourmet Biscotti

What sets Way North Biscotti apart is that they provide a pleasing crunch while melting into cake-like satisfaction in the mouth. For those who want the traditional, rock-hard biscotti experience, the ends of the loaf, cleverly called "stones," can also be purchased. Regular or stone, everything that emerges from the Way North Foods ovens is absolutely luscious and distinctively better than most biscotti we've tasted. With flavors that include Dried Cherry, Lemon-Dried Blueberry, Orange-Dried Cranberry, Cherry Cordial, Double Dark Chocolate and Maple Walnut—plus Apple Pie, Peppermint Bark and Pumpkin for the holidays—there's something for everyone on your gift list!

Biscotti
8-Ounce Bag (7 Biscotti)
$6.00

Buy online at WayNorthFoods.com

Read our review of Way North Biscotti, a NIBBLE Top Pick Of The Week.



The packaging is homespun, but the contents are as gourmet-quality as it gets. Photo by Corey Lugg | THE NIBBLE.
© Copyright 2005- 2015 Lifestyle Direct, Inc. All rights reserved. Images are the copyright of their individual owners.