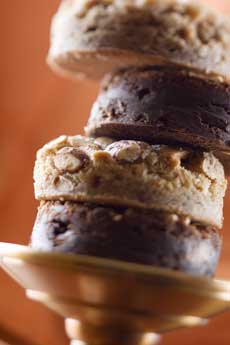 What better gift for your sweetie than Sugardaddy's Sumptuous Sweeties?
February 2007
Updated February 2010

Valentine Gifts: Cookies & Brownies
Chocolate Gifts That Aren't Chocolates
Not everyone wants a box of chocolate for Valentine's Day. The brownie, cake and cookie lovers among us want what you see here: the tastiest, prettiest baked delights with heart motifs.
(K) designates a kosher-certified product. This article is updated each February for Valentine's Day. Price and product availability are verified at publication but are subject to change.
Burdick Chocolates: Chocolate Raspberry Cake

Perfect for two, this rich layer cake from chocolatier and patissier Larry Burdick has a layer of velvety raspberry ganache sandwiched between rich layers of dark chocolate cake. Read our full review of Burdick Chocolate.

5" Cake
$23.00
6" Cake
$31.00

Eleni's: Love Letter Cookies

Hand-iced sugar cookies printed withloving notes and red envelopes sealed with a pink heart. Certified kosher (dairy) by Orthodox Union. Read our full review of Eleni's Cookies.

Love Letters
8, 18 or 32 Hand-Iced Cookies
$45.00-$105.00

Your honey will love these homemade honey and barley lollipops. They taste like they were made two centuries ago by a loving confectioner for eager boys and girls. Today, that goes for eager adults as well. The honey and barley combination is pure comfort (and also comforting to a scratchy throat). And because the sweetener is honey, not sugar, these are sophisticated lollys. Liddabit also makes sophisticated candy bars for good boys and girls, plus hard-to-find honeycomb candy, a crisp and airy confection coated in chocolate.

Lollipops
Barley/Honey or Maple-Apple
4 Pieces
$5.00
Honeycomb Candy
3.6-Ounce Bag
$6.50


Barley and Honey Lollipops for your honey. Photo by Hannah Kaminsky | THE NIBBLE.

Nordicware: Heart-Shaped Cake Pan & Brownie Mix

A red aluminum non-stick cake pan and a box of brownie mix create this lovely brownie Valentine. The pan can be used to make any cake recipe. Read our full review of Bundt cake mixes. The pan and mix are available separately at Nordicware.com. Or, bake the cake as your gift. You can frost it, or save the calories and enjoy the quilted, ruffled heart design.

Fancy Heart Pan And Brownie Mix
$41.00 for both

Nordicware: Mini Heart Cupcake Tin

An aluminum non-stick cupcake tin makes six mini delights. Fill each with chocolate pudding, buttercream, frosting or your favorite filling for a delicious treat. The tin can be used to make any cake recipe. Read our full review of Bundt cake mixes.

Mini Heart Baking Pan
$28.00

Ruby et Violette Seduction Cookies

How do we love thee? Nine different ways, with these Seduction Cookies from Ruby et Violette. Chocolate chunk cookies in flavors from cream cheese to ginger to curry are unforgettable. The gift boxes are to-die-for: keepers that you'll use as art objects. Read our full review of Seduction Cookies, a NIBBLE Top Pick Of The Week.

Seduction Cookies
Gift Boxes
$15.00 - $110.00

Sugardaddy's Sumptuous Sweeties: Blondies & Brownies

These luxury brownies are hand-crafted of top ingredients including Callebaut and Guittard chocolate, and Callebaut semi-sweet chunks. They're packaged in individual containers, then in a silk Dupioni bag and satin ribbon (that can be reused as a wine gift bag). It's Valentines Luxury, for sure. Choose from 5 brownie flavors, four blondies, or the new Fire & Spice flavors for your red-hot Valentine. Read our review of Sugardaddy's Sumptuous Sweeties.

Blondies & Brownies
12 Two-ounce Muffins In Gift Box
$29.99


The Cinnamon Sweetie is a blondie
coffeecake fusion. Splendid!

© Copyright 2005- 2023 Lifestyle Direct, Inc. All rights reserved. Images are the copyright of their respective owners.