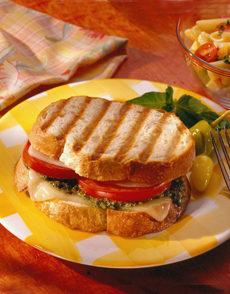 This easy-to-make panini combines tomatoes and mozzarella with pesto sauce to create a delicious vegetarian sandwich.

Panini Pizzazz ~ Vegetarian Panini Sandwiches
Page 5: Mozzarella, Pesto & Fresh Tomato Panini


This is Page 5 of an 8-page article. Click the black links below to visit other pages. See Page 1 for information about a panini pan/panini press.
On The Menu:

Mozzarella, Pesto & Fresh Tomato Panini

Ingredients For 4 Panini
8 slices country Italian, sourdough or other firm-textured bread
8 slices mozzarella cheese
1/3 cup pesto sauce
4 slices large tomato
2 tablespoons olive oil
Preparation
Top each of 4 slices of bread with a slice of cheese. Spread pesto sauce over cheese. Place tomatoes on top, then another slice of cheese.
Close sandwiches with remaining 4 slices bread. Brush olive oil over both sides of sandwiches.
Cook sandwiches on grill over medium-low coals or in preheated ridged grill pan 3 minutes per side or until bread is toasted and cheese is melted.
Continue To Page 6: Panini With Vermont Sharp White Cheddar & Homemade Pickled Vegetables
Recipe courtesy of Sargento. Other material © Copyright 2005- 2015 Lifestyle Direct, Inc. All rights reserved. Images are copyright of their respective owners.