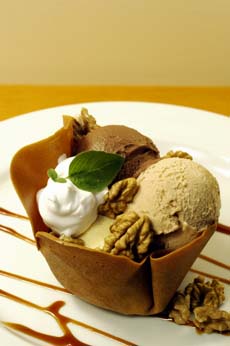 A scoop of cinnamon and a scoop of caramel in a gingerbread cookie dough cup (the recipe: just drape any cookie dough over a Pyrex custard cup, make "hospital corners," and bake). Drizzle the plate with caramel and add a few toasted or candied walnuts or marrons glacées. Photo by Marcin Bania | IST.

KAREN HOCHMAN is Editorial Director of THE NIBBLE, and an ice cream critic who has been churning her own for 25 years. The first flavor she produced was Grand Marnier.
December 2005
Updated December 2009

Graeter's Ice Cream
A Starlet In The Heartland
Overview
If you live in Cincinnati, Columbus, or Dayton, Ohio; a few towns in Kentucky; or in New Albany, Indiana: lucky you! You can simply drive over to one of 36 Graeter's stores and and pick up some of their rich premium ice cream. But given the price of gas these days, it may not cost that much more for the rest of us to have it shipped.
And so we, who live in New York, are enjoying our second holiday shipment of Graeter's Ice Cream. The first, for Thanksgiving, delivered an incredibly rich and chewy Pumpkin Spice Ice Cream with an egg custard base and spiced so nicely, the actual pie we had for Thanksgiving dinner was disappointing. The Apple Cider Sorbet was as if someone had put a cinnamon stick in farmstead cider and made a granita. Please don't picket us, but no retailer we found in New York made holiday ice cream this good.
Graeter's, one of the oldest continuously family-owned ice cream makers in the country, has been pleasing crowds in the Queen City since 1870. The fourth generation of the Graeter family uses the same egg custard recipes and the small batch method of production. Graeter's calls it the "French Pot Process," and it has gotten a lot of play. We have been unable to find a culinary reference to a "French pot" technique of ice cream preparation outside of Graeter's (although the term does exist as an old technique in the distillation of rum).

Graeter's themselves refers to their custom-designed French Pot machinery as a vertical batch freezer, and process seems not significantly different from other small batch methods that create high density ice creams with low overrun (a low percentage of air whipped in). Where a typical pint of ice cream can weigh as little as eight ounces, notes Graeter's, one of their pints weighs nearly a full pound. And you'll also notice the difference in calorie counts: that other pint is about 170 calories a 4-ounce serving, whereas a Graeter's pint runs 260 to 290 calories (this is the same with other artisan ice creams, as well as with Häagen-Dazs). Net net, "French Pot process" makes for good marketing, but it's nothing arcane.

The two-gallon "French Pot," above, churning ice cream. Below,molten chocolate is added. It chills and shatters to create chocolate "chips."
Small batch processing is a concept known to everyone who makes artisanal products, as well as to home cooks and bakers. For reasons of chemistry not yet understood, foods made in small batches are far superior in taste. Try to quadruple the recipe, and something gets lost in translation—whether it's ice cream, toffee, cake or spaghetti sauce.
Continue To Page 2: Flavors Of Graeter's Ice Cream
© Copyright 2005-2015 Lifestyle Direct, Inc. All rights reserved. Images are the copyright of their respective owners.