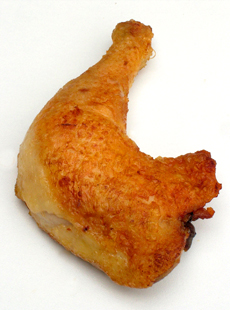 We came, we grilled, we ate hundreds of barbecued chicken legs. Photo © Gaël Rabarijaona–FOTOLIA.
KAREN HOCHMAN is Editorial Director of THE NIBBLE.

Best Barbecue Sauces
Barbeque, Barbecue or BBQ
, We Round Up The Best
Got sauce? We spent months eating barbecue chicken for lunch every day, tasting an inordinately large number of barbecue sauces. For a sweet-and-tart sauce that is basically very simple to make, there are endless recipes, all of which contain some variation of the following:
Tomatoes, which generally means tomato paste or ketchup
Some form of sugar: cane sugar, brown sugar, molasses, honey or a combination (many mass-marketed brands use the dreaded high fructose corn syrup, a.k.a. HFCS)
The "tart part," vinegar
A hot spice, which can be on the mild side—mustard or chili powder—to various degrees of hot chile, up to hot-hot-habañero*
*Mouth-searing sauces with names that include "death," beloved by people called chile heads, made from the hottest commonly-available pepper on the Scoville scale, the scotch bonnet, were deemed outside the call of duty here.
Some people use barbecue sauces to baste foods during grilling, some use it as a condiment for foods that come off the grill (or out from under the broiler); some use it both ways. (And some people spell barbecue with a "q," as in barbeque; or simply BBQ.) We acknowledge all preferences.
These sauces, in alphabetical order, emerged from a very large field:
The sauces aren't just for chicken or ribs: a good condiment is a good condiment! We tried them on burgers, fish, frankfurters, ham, meat loaf, rice, sandwiches, turkey and vegetables. Like any good sauce, they are tasty enough to be eaten by the spoonful.
Bellycheer Gourmet Zesty Grilling Sauces
Barbecue sauces are loaded with sugar—that's one reason they taste so good. Yet Porky's Gourmet, whose Bellycheer Gourmet Spicy Salsa and Jalapeño Pepper Sauce have won first place awards in Chile Pepper magazine's annual Scovie Awards, have created a sweet-tasting grilling sauce that tastes so great, you wouldn't know there's no sugar. Give a cheer for Bellycheer!
Made with Splenda, the two Bellycheer Gourmet Sugar Free Zesting Grilling Sauces—regular and hot—have no sugar, no fat, and low salt. Where does all the flavor come from? Tomato purée, lemon juice, soy sauce, apple cider vinegar, red wine vinegar, spices, minced onions, garlic powder, onion powder and hot pepper sauce. The Zesty Hot is just nicely hot—what Kentucky Bourbon-Q (see below) would call 5 out of 10 on the heat scale. At just 5 calories a tablespoon, gift bottles of these sauces should be given to everyone who is frequently in dieting mode.
BELLYCHEER GRILLING SAUCES

Zesty Grilling Sauce, Zesty Hot Grilling Sauce

Purchase online at PorkysGourmet.com

Or telephone 1.800.767.5911

All prices and products in this article are verified at publication but are subject to change. Shipping is generally additional.



Cattlemen's Authentic Smoke House Barbecue Sauce
Who would have thought that a supermarket product would end up on this list of small-batch, artisan barbecue sauces? Not us! But we knew that at the annual "Memphis in May" World Championship Barbecue Cooking Contest, a preponderance of the winners use Cattlemen's sauce. Cattlemen's makes four flavors of barbecue sauce, and while the Classic flavor is the "World Champion," Authentic Smoke House was the champ in our taste test. It has tons of hickory flavor that had us coming back for more. The Classic flavor is fine, but not as distinctive and exciting as the other sauces in this article. However, Cattlemen's is the only product in our line-up that's kosher; so if you're looking for kosher products and don't like smoky flavors, it's a great place to start.
CATTLEMEN's BARBECUE SAUCE

Authentic Smoke House Flavor

Certified kosher by Orthodox Union

18-Ounce Bottle
$2.50
Gallon
$14.25

Purchase online at HomeSolutionsStore.com

CATTLEMEN'S Barbecue Sauce is available at food stores, convenience stores and club stores nationwide.



Kentucky Bourbon-Q: Pappy's Barbecue Sauce
From Louisville, Kentucky, where they know a thing or two about barbecue, Pappy's is one line of barbecue sauces, grilling sauces, and barbecue marinades called out to us. Created by champion barbecue-grillmaster Shane Best, the line is made of tomato sauce, brown sugar, vinegar, and paprika, Worcestershire sauce and bourbon—the law allows less than 3% by volume, with various seasonings according to flavor. The overall profile is tomato, sugar and paprika
In ascending order of heat:
The flat glass bottles are both attractive and clever—they'd have gifting value even if the contents weren't so good.
KENTUCKY BOURBON-Q BARBEcUE SAUCES

Bear Claw, Fighting Cock, Pappy's

Purchase online at BourbonQ.com

Or telephone 1.502.222.6154



Montana's Best Barbeque
These plastic bottles aren't glamorous, but perhaps are certainly more practical for competitive grillers. Made by Konrad & Phyllis Haskins, award-winning grillmasters of TeddyBearBBQ.com, they are named after winning back-to-back Montana State Barbeque championships and over 50 other awards.
As opposed to the Kentucky Bourbon-Q line, which uses tomato sauce and a lot of brown sugar, this line starts with ketchup and then uses pineapple juice, honey, cane sugar, hickory smoke and sesame oil, spices, dried onion and mustard. You'd think from reading labels that the ketchup, juice, sugar and honey would create a sweeter product, but it doesn't—quite the opposite. Also noteworthy is that each of the sauces has texture from the spices, e.g. celery seed, and dried onion.
We supplied the heat levels on these sauces based on our own estimates.
Grizzly Bear Hot Sauce. Heat: 6 out of possible 10. The third ingredient is pineapple juice, so there's a subtle sweetness before the heat creeps in. Lots of good spice and paprika flavor: the grizzly is growling, but not yowling.

Hot Wing and Rib Glaze. Heat: 2 out of possible 10. A very sophisticated layering of flavors makes this an excellent condiment sauce for any occasion: we could see it on a steak or with eggs. A lovely tartness and a peppery glow.

Original Sweet Barbeque Sauce. Heat: 1 out of possible 10. Apple juice is added to this, plus hickory sauce. It's surprisingly one-dimensional compared to the other two in the line.
MONTANA'S BEST BARBEQUE

Grizzly Bear Hot Sauce, Hot Wing and Rib Glaze, Original Sweet Barbeque Sauce

Purchase online at MontanasBestBarbeque.com

Or telephone 1.360.243.0699



Tassleberry Farm
Taste of Tassleberry Strawberry Jerk Sauce. What a great fusion concept: strawberries and fiery jerk seasoning. Heat and elegance in a thick spread of a sauce.
Taste of Tassleberry Strawberry Marinade. No heat here, but the folks at Tassleberry Farm in upstate New York have blended extra virgin olive oil, strawberries, strawberry vinegar, soy sauce, garlic and spices into a very interesting marinade. It's as thick or thicker than the barbecue sauces we tasted, so we basted with it as well. There's no sugar or added sweetener; the strawberry flavor is balanced by lots of onion flavor and a nice touch of garlic. Different and enjoyable.
TASSLEBERRY FARM

Taste of Tassleberry Strawberry Marinade and Strawberry Jerk Sauce

Purchase online at Tassleberry.com



© Copyright 2005-2015 Lifestyle Direct, Inc. All rights reserved. Images are copyright of their respective owners.