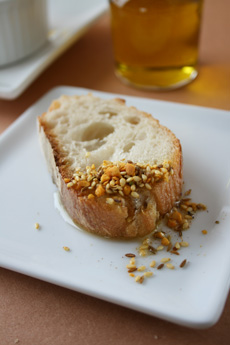 A close-up: Note the chopped hazelnuts, sesame seeds, fennel seeds and olive oil. Photography by Hannah Kaminsky | THE NIBBLE.

Dukkah Recipe
Page 4: Make Your Own Dukkah
This is Page 4 of a six-page article. Click on the black links below to visit other pages.
Dukkah Recipe
Start the trend in your town. Here's a recipe to make dukkah from scratch. You can play with the nut:spice ratio, use different nuts, add chiles if you like things really hot (in this recipe, the dried mint offsets the peppercorns and the toasted spices).
Ingredients
You can vary this recipe to experiment with other favorite nuts (almonds, coconut, macadamia nuts, peanuts, pine nuts, pistachios) and seeds (flax, pumpkin, sunflower, your favorite) and seasonings (curry, crushed red pepper flakes, smoked paprika, turmeric, za'atar).
1/2 cup hazelnuts or roasted chickpeas*
3 tablespoons sesame seeds
1/4 cup coriander seeds
2 tablespoons cumin seeds
1 tablespoon black peppercorns
1 teaspoon fennel seeds
1 teaspoon dried thyme or mint
1 teaspoon sea salt
*Roasted chickpeas are available from Middle Eastern markets including Kalustyans.com.
Preparation
Heat a skillet and dry roast the sesame seeds in a skillet until light golden brown and fragrant; be careful not to burn. Remove from skillet. Cool.
Roast nuts for about 5 minutes and remove the skins by rubbing vigorously in a tea towel. Cool.
In sequence, roast the remaining seeds and spices until they darken. Chick peas, if used, do not require further roasting.
When all roasted ingredients have cooled, combine ingredients and process with a mortar and pestle or pulse in a food processor into a coarse consistency—don't process into a paste.
Store in an airtight jar in a dark, cool place. The mixture will keep for about three months.
Continue To Page 5: Dukkah Recipes ~ Side Dishes
© Copyright 2005- 2015 Lifestyle Direct, Inc. All rights reserved. Images are the copyright of their respective owners.