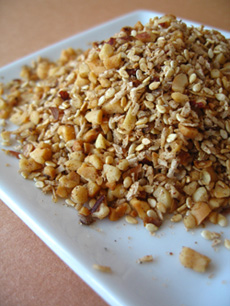 Coconut Oregon Dukkah. Photo by Emily Chang | THE NIBBLE.

Dukkah Recipes
Page 5: Barley Salad & Coconut Rice Salad
These recipes were developed by Chef Donna Dockins, creator of Oregon Dukkah. This is the first of five pages of side dishes. Click on the black links below to visit other pages.
Dukkah Side Dish Recipes
If you cannot obtain Oregon Dukkah, you can make your own dukkah from the dukkah recipe, seasoning it appropriately.
Barley Salad
Yield: 10 servings.
Ingredients
1-3/4 cups hull-less barley (we like Bob's Red Mill), cooked and cooled
1 medium cucumber, diced
1/4 cup chopped red onion
1 large carrot, shredded
2 stalks celery, chopped
3 tablespoon minced fresh parsley
3 tablespoons low-fat mayonnaise
2 tablespoons canola oil
1 tablespoon lemon juice
2 teaspoons honey
1 garlic clove, minced
1 teaspoon salt
1/4 teaspoon pepper
¼-1/2 cup Traditional Oregon Dukkah
2 cups grape tomatoes, halved
Preparation
In a large bowl, combine the first five ingredients.
In another bowl, whisk mayonnaise, oil, lemon juice, honey, garlic, salt and
pepper; stir into rice or barley mixture.
Add tomatoes. Gently stir in dukkah.
Coconut Dukkah Rice Salad
Makes 8-10 servings.
Ingredients
2 cups jasmine rice, rinsed
1 can (4 ounces) coconut milk
2 cups water
½ teaspoon salt
1½-2 cups fresh pineapple, diced
½ cup red onion, small dice
½ cup fresh cilantro, minced
¼ pound of snow peas, lightly
steamed and sliced
1 pound shrimp, cooked and shelled
2-4 tablespoons Coconut Oregon
Dukkah
Salt and pepper
Preparation
Rinse rice well and drain. Place in 6-quart pot over medium heat with coconut milk, water and salt, covered. Bring to boil, reduce heat and simmer until rice is done. Let cool.
Place cooled rice in a large bowl with pineapple, red onion, snow peas, cilantro and shrimp. Toss, mixing well. Add Coconut Oregon Dukkah and salt and pepper to taste.
Continue To Page 5a: More Dukkah Recipes ~ Side Dishes
© Copyright 2005- 2015 Lifestyle Direct, Inc. All rights reserved. Images are the copyright of their respective owners.