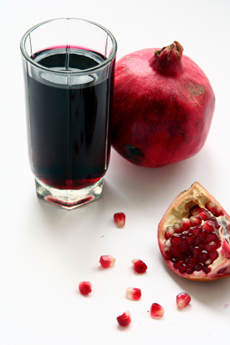 A glass of antioxidants that tastes good, too. Photo by Slava Valitov | IST.
ALISSA DICKER is a freelance writer and cooking teacher in New York City.
February 2008
Updated November 2008

Pomegranate Juice Reviews
The Best Pomegranate Juice Brands
Page 1: How Pomegranate Juice Is Made
CAPSULE REPORT: In Part I of this article, Pomegranate Primer, we reviewed the pomegranate history and basics, plus how to peel and store. Here, we tasted more than 50 brands of pomegranate juice and present the 19 brands we liked best, along with, serving suggestions and how to make your own pomegranate juice.

Part II: Pomegranate Juice Reviews

How Pomegranate Juice Is Made
When we began our quest to understand the category of pomegranate juice, we were impressed by the sheer variety of colors, flavor profiles, viscosities, aromas and sweetness among the brands of 100% pomegranate juices we tried. A number of factors can explain these differences.
You won't necessarily know all of this when you purchase your pomegranate juice. You may only know if your juice is fresh-squeezed or from concentrate. Producers are not required to state country of origin, or any other detail.
As the market for pomegranate juice continues to grow, we hope our roundup of these products helps make sense of the vast variety that exists and enables readers to select products that suit their tastes and purposes.
Continue To Page 2: 100% Pomegranate Juice
Recent Articles From Our NutriNibbles™ News Feed:
Subscribing notifies you whenever there are
new additions to the NutriNibbles™ section.

Subscribe to THE NIBBLE™ NutriNibbles™ by Email
© Copyright 2005-2015 Lifestyle Direct, Inc. All rights reserved. Images are the copyright of their respective owners.