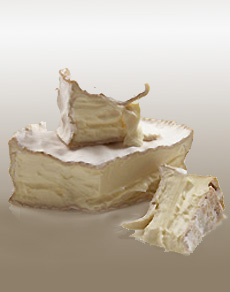 Buttery on the palate with a velvety texture: just two words to describe Brillat-Savarin, one of the great cheeses of the world. Photo courtesy of igourmet.com.
August 2005
Last Updated February 2010

Cheese Tasting Terminology
Page 4: Bloomy Rind & Blue Cheese
This is Page 4 of a five-page article. Here, how to describe bloomy cheese and blue cheese. Click on the black links below to visit other pages.
Bloomy Cheeses

These are the white cheeses with soft, creamy interiors—the most popular cheeses in the world. The rind is composed of one of the greatest cheese molds, Penicillium candidum.

Examples: Brie, Camembert, Brillat-Savarin and Pierre Robert.

Learn more about Brie and Camembert.




A creamy Brie from Rouge et Noir. Photo by Evan Dempsey | THE NIBBLE.
Custardy
Decadent
Fluffy
Luscious
Mouthfilling
Pasty

Pillowy
Rich
Ripe
Soft
Velvety
Voluptuous

Buttery
Earthy
Grassy
Mushroomy
Slight Ammonia
Wet Grass
Blue Cheeses
Created by the mold Penicillium roqueforti, a relative of the Bloomy group's Penicillium candidum, but blue in color rather than white. They range from medium to sharp in flavor, and can be semisoft or hard.

Examples: Cabrales, Danish Bleu, Gorgonzola, Roquefort, Stilton.

Learn more about blue cheese.




Artisan blue cheeses. Photo courtesy EatWisconsinCheese.com.
Creamy
Crumbly
Fudgy
Liquescent
Powerful

Punctured
Sandy
Striated
Veined
Velvety

Biting
Electric
Lingering
Mean
Moldy

Penicillium roqueforti
Popping
Spicy
Tangy
Continue To Page 5: Pressed & Washed Rind Cheeses
© Copyright 2005-2015 Lifestyle Direct, Inc. All rights reserved. Images are the copyright of their respective owners.