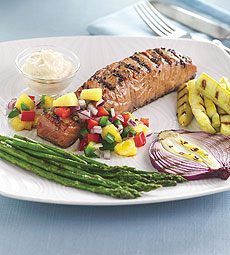 Salmon with pineapple salsa and grilled vegetables makes for a very tasty, very healthy meal. Photo courtesy J.M. Smucker Company.

Recipe: Grilled Salmon With Pineapple Salsa & Grilled Vegetables

This grilled salmon recipe was a finalist in the 2009 Crisco Grilling Hall Of Fame Contest. This is Page 8 of a 15-page recipe series. Click on the black links below to visit other pages. You can read about the contest on Page 1.
Grilled Salmon With Pineapple Salsa & Grilled Vegetables
This is a wonderful spring dish, when asparagus are in season—and a very healthy as well. To shave off more calories and fat, substitute plain nonfat Greek yogurt (we like FAGE Total and Chobani) for the sour cream and mayonnaise in the horseradish dip—it will be just as enjoyable. Leftovers can be served as a cold plate for lunch. Serves 2.
Ingredients
Olive oil non-stick spray
2 tablespoons firmly packed brown sugar
1 clove garlic, minced
¼ cup tamari soy sauce
Two 6-ounce salmon fillets
1/3 cup pineapple, cut into a small dice
3 tablespoons mixed chopped green and red bell pepper
3 tablespoons chopped red onion
1 tablespoon orange blossom honey
2 teaspoons sesame oil
1 tablespoon black sesame seeds
6 ounces asparagus tips (trim to only the top 5 inches)
2 small yellow summer squash, cut into sticks
1 tablespoon lemon juice
1 cup water
3 slices red onion
½ teaspoon garlic salt
¼ cup mayonnaise
¼ cup sour cream
1 tablespoon horseradish
1 tablespoon grated Parmesan cheese
Preparation
Spray grill with non-stick spray. Heat a charcoal fire to medium heat. In a 13x9x2 inch glass dish, stir together the brown sugar, garlic and soy sauce. Add the salmon fillets, coat well and turn occasionally until grilled. Set aside.
In a small mixing bowl, stir together the pineapple, peppers, 3 tablespoons chopped red onion and honey. Set aside.
Place the salmon on the grill. Brush the salmon with all of the sesame oil and sprinkle with half of the sesame seeds. Cook for 5 minutes. Turn and sprinkle the other side with the remaining sesame seeds and cook for 5 minutes more.
In a fireproof skillet, add the asparagus, squash, lemon juice and water, and simmer on grill for 3 minutes. Place the onion slices, asparagus and squash in a grill basket with a lid. Cook on the grill for 2 minutes, flip the basket and cook 2 minutes more.
In a small bowl, stir together the garlic salt, mayonnaise, sour cream, horseradish and cheese.
Arrange the salmon and vegetables on a large platter. Top the salmon with the pineapple mixture. Serve the horseradish dip on the side for the grilled vegetables.
Go To Page 9: Grilled Sweet Potato Salad With Jicama, Blue Cheese & Chipotle Lime
Dressing
Recipe copyright 2009 J.M. Smucker Company. All rights reserved. Other material © Copyright 2005- 2015 Lifestyle Direct, Inc. All rights reserved. Images are the copyright of their respective owners.