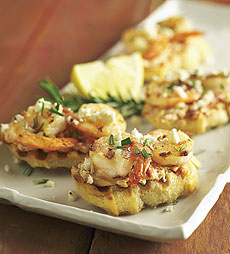 Lemon-rosemary shrimp atop home-made crostini makes an elegant and tasty presentation. Photo courtesy J.M. Smucker Company.

Recipe: Lemon-Rosemary Shrimp Crostini

This shrimp crostini recipe was a finalist in the 2009 Crisco Grilling Hall Of Fame Contest. You can read about the contest on Page 1 of this recipe series. This is Page 11 of a 15-page article. Click the black links below to visit other pages.
Lemon-Rosemary Shrimp Crostini
As a first course or an hors d'oeuvre with wine, these elegant crostini have complex flavors. Serves 8-12.
Ingredients
No-stick cooking spray
1 pound (about 45-55 count) large shrimp, peeled & deveined
1/4 cup extra virgin olive oil
1 lemon, juiced & zested
2 tablespoons fresh rosemary (1 tablespoon optional for garnish)
2 garlic cloves, minced
Salt and pepper to taste
1 package (8 ounces) cream cheese, softened
1/2 cup feta cheese, crumbled
1/4 cup pine nuts, toasted & finely chopped
1/4 cup sun-dried tomatoes (packed in oil), finely chopped
1 long baguette, cut into 24 thin slices
Wooden skewers soaked in water
Preparation
Spray grill grate of either a gas grill or charcoal grill with no-stick cooking spray. Heat grill to medium-high heat.
Place shrimp in resealable plastic bag. In small bowl, whisk together olive oil, lemon juice and zest, 1 tablespoon rosemary, and garlic. Add salt and pepper to taste. Pour half of mixture over shrimp and gently toss to coat shrimp. Set shrimp aside for 5-10 minutes.
To oil mixture remaining in bowl, stir in cream cheese, 1/4 cup feta, pine nuts and tomato. Add salt and pepper to taste. Cover and set aside.
Spray both sides of baguette slices with no-stick cooking spray. Place on grill for 1-2 minutes per sides or until lightly toasted. Set aside to cool slightly.
Meanwhile, drain excess liquid from shrimp and place on skewers. Grill 1-2 minutes per side or until pink and cooked through. To assemble, spread cheese mixture onto bread slices, then place about 2 shrimp on top. Sprinkle remaining feta and rosemary on top.
Recipe copyright 2009 J.M. Smucker Company. All rights reserved. Other material © Copyright 2005- 2015 Lifestyle Direct, Inc. All rights reserved. Images are the copyright of their respective owners.