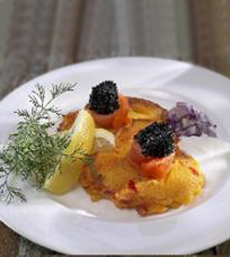 Salmon Pancakes With Smoked Salmon & Black Seaweed Caviar
make an elegant first course or brunch option. Photo courtesy Paramount Caviar.

Smoked Salmon Recipes
Salmon Pancakes With Smoked Salmon & Black Caviar
This is Page 6 of an eight-page article of elegant seafood hors d'oeuvre recipes. Click on the black links below to view the other pages. Click the black links below to view the other pages.
On The Menu:
Salmon Pancakes With Smoked Salmon & Black Caviar
Use whichever black caviar you can afford. You can buy capelin or lumpfish caviar for as little as $2.00 an ounce...or spend ten times that for sturgeon caviar.
This recipe was originally developed in the U.K. using double cream, a 48% butterfat cream that is at least 6% higher than the heavy highest-fat heavy cream available from artisan dairies in the U.S. The heavy cream in supermarkets ranges from 36% to 40% fat. Using heavy cream in this recipe is just fine; it is less rich than double cream, but rich enough.
Recipe yields 4-8 servings, based on portion size (one or two pancakes).

Ingredients

Corn Pancakes

7/8 cup corn flour
2 eggs
7/8 cup heavy cream or double
cream
1/2 red bell pepper, chopped
4 ounces ounces smoked salmon,
chopped
Salt and pepper, to taste (salt
lightly as the smoked salmon adds
salt)


Bowfin caviar is about $20 an ounce. Photo courtesy ParamountCaviar.com.
Garnish
8 strips smoked salmon, cut into 2-inch wide strips

Black

caviar
Sour cream
1/2 red, finely minced
4 lemon slices or wedges
4 sprigs dill
Preparation
For the corn pancakes, combine ingredients in a mixing bowl. Mix just enough to wet all ingredients evenly.

Fry pancakes 3 to 4-inches in diameter, in butter on a hot griddle or frying pan.

To serve, place a dollop of sour cream on a pancake. Wrap a smoked salmon strip around the sour cream. Place caviar on top of sour cream, and garnish with red onion, lemon juice and dill, to taste.
Go To Page 7: Seven Layer Salmon Bites
Return To The Article Index Above
Recipe courtesy Paramount Caviar. All other materials © copyright 2005- 2015 Lifestyle Direct Direct, Inc. All rights reserved. Images are the copyright of their individual owners.