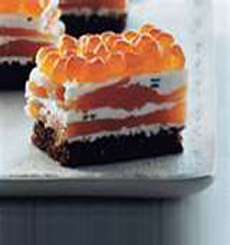 These Seven Layer Salmon Bites
are fun to make
and
eat. Photo courtesy Paramount Caviar.

Smoked Salmon Sandwich Recipe
Serve As "Seven Layer Salmon Bites" Hors d'Oeuvre
Or A Regular Sandwich.
This is Page 7 of eight pages of seafood hors d'oeuvre recipes. Click on the black links below to view the other pages.
On The Menu:
Seven Layer Salmon Bites
Recipe yields 48 "bites" to serve with Champagne, white wine or martinis. You can also make this recipe as a luxurious smoked salmon sandwich instead of as hors d'oeuvres (instructions below).
Ingredients
10 ounces whipped cream cheese

1 teaspoon finely grated fresh lemon zest

2 teaspoons fresh lemon juice

2 tablespoons finely chopped fresh chives

1/4 teaspoon salt

1/4 teaspoon black pepper

6 slices, 6- by 5-inches, pumpernickel sandwich bread
(about 1/3-inch thick slices—not the thin dark pumpernickel
squares or rectangles, which are too tangy for the delicate caviar)

1/2 pound thinly sliced Scottish smoked salmon

1/4 cup salmon roe (2 ounces)
Preparation
Stir together cream cheese, zest, lemon juice, chives, salt and pepper in a small bowl.

Stack bread slices, then trim to form 4-1/4 by 3-1/4-inch rectangles. Arrange rectangles in 1 layer. Spread each with 1 heaping tablespoon cheese mixture and top with a thin layer of smoked salmon (cut to fit with kitchen shears).

Make 1 more layer each of cheese and salmon, then top with remaining cheese. Trim edges to make uniform and chill rectangles on a platter until tops are firm, about 1 hour.

Cut rectangles into 8 (1-1/2 by 1-inch) pieces, then top each piece with a rounded 1/4 teaspoon roe.
To make as Smoked Salmon & Caviar Sandwiches
Stir together cream cheese, zest, lemon juice, chives, salt and pepper in a small bowl (same step as above).
Spread cheese mixture on all 6 slices of bread.
Top 3 slices of bread with a layer of smoked salmon. Divide caviar among the slices.
Top with the remaining bread slices. Cut each sandwich in half and serve.
Go To Page 8: Smoked Salmon & Caviar Blinis
Return To The Article Index Above
Recipe courtesy Paramount Caviar. All other materials © copyright 2005- 2015 Lifestyle Direct Direct, Inc. All rights reserved. Images are the copyright of their individual owners.