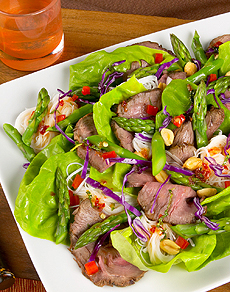 Thai Grilled Lamb & Asparagus Salad makes a hearty, healthy and delicious lunch. Photo courtesy California Asparagus Commission.

Product Reviews / Main Nibbles / Meat & Poultry
Asparagus Recipes
Page 7: Thai Grilled Lamb & Asparagus Salad


Americans have not mastered the art of blending meats and vegetables into delicious salads. Take a tip from the Thais and make this wonderful lamb salad. Think of it for leftover lamb, and for serving in smaller portions for a first course with a lighter entrée—pasta, for example. This is Page 7 of a 12-page article. Jump to the recipe below. Click the black links below to view the other pages.
Index
On The Menu
Breakfast/Brunch:
Lunch:
Dinner Entrees:
Asparagus Sides:
Thai Grilled Lamb & Asparagus Salad
Recipe yields 6 servings.
Ingredients
1 to 1-½ pounds lamb, top round
Marinade
1/2 cup peanut oil
1/4 cup honey
2 cloves of garlic, chopped fine
1/4 cup red chili sauce (available in the Asian products section
of the supermarket, or at Asian markets)
1 tablespoon fresh ginger, grated

Salad
1 pound asparagus
1/2 cup purple cabbage, finely sliced
1 package rice noodles (available in the Asian products section
of the supermarket, or at Asian markets)
6 leaves butter lettuce
1/2 cup fresh mint, thinly sliced
1/2 cup dry-roasted salted peanuts, chopped
1/2 red bell pepper, julienned
Salad Dressing
2 limes, zest and juice
1/2 teaspoon salt
2 tablespoons rice wine vinegar
1 tablespoon fresh mint, chopped fine
1 tablespoon sugar
1 teaspoon red chili paste
1 teaspoon fresh ginger, grated
1/3 cup peanut oil
Preparation
Preheat oven to 400°F.
For the lamb, blend together the ingredients for the marinade in a small bowl. Marinate lamb for at least 1 hour to overnight.
Remove lamb from marinade. Salt and pepper lamb on all sides. Brown lamb on all sides over a pre-heated grill. Finish in a 400°F oven for 20 minutes, or until the internal temperature reaches 140°F. Let lamb rest for 10 minutes before slicing thin.
For the salad, blanche the asparagus in boiling salted water until tender. Shock in a bowl of cold ice water to chill. Drain on paper towels.
Cook rice noodles as directed on package. Rinse in cold water to chill. Toss with a few tablespoons peanut oil to keep from sticking.
For the dressing, place all dressing ingredients in a jar with a tight-fitting lid. Shake well to blend.
To assemble, place 1 butter lettuce leaf on a plate. Add a small nest of noodles; top with purple cabbage and red bell pepper. Top with approximately 6 spears of asparagus. Add thinly sliced, room temperature lamb. Garnish with chopped peanuts and fresh mint. Drizzle with the dressing.

Continue To Page 8: Asparagus & Rock Shrimp Risotto
Recipe courtesy California Asparagus Commission. All other materials © copyright 2005- 2015 Lifestyle Direct, Inc. All rights reserved. Images are the copyright of their respective owners.