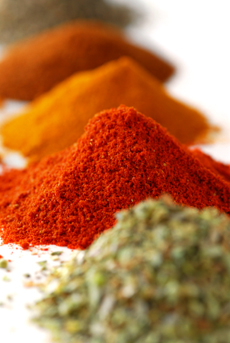 The right spices are more than flavorful, fragrant and colorful: They have antioxidant properties, too. Photo by Elena Elisseeva | IST.

Antioxidant Spices: Oregano
Seven "Super Spices" That Help Fight Cancer, Illness & Aging
This is Part IV of an eight-part article. Use the index immediately below to navigate from page to page. In this section, we take a look at oregano.


Oregano
At 3,602 ORAC, oregano has the second highest antioxidant level of the Seven Super Spices. It is an indispensable ingredient in Greek and Italian dishes. Oregano is a leafy green plant whose flavor is more potent when dried. In the U.S., the herb is most commonly associated with tomato sauce and pizza.

Oregano also has antimicrobial properties against some food-borne pathogens, allowing it to be used in food preservation.

Get at least 3,602 ORAC for every slice of pizza you eat. Photo courtesy of McCormick.
Oregano is another herb that's easy to implement into your regular diet. You can add it to any number of savory dishes: Try it in grilled cheese, pizza, tomato sauce, grilled vegetables, meatballs and poultry, just to name a few. This is one herb no kitchen should be without.
Click here to learn how to make a Broccoli & Potato Frittata and Greek Turkey Burgers with Spiced Yogurt Sauce, two delicious recipes from McCormick that include plenty of oregano.
Go To The Index At The Top Of The Page
All material © Copyright 2005- 2015 Lifestyle Direct, Inc. All rights reserved. Images are copyright of their respective owners.