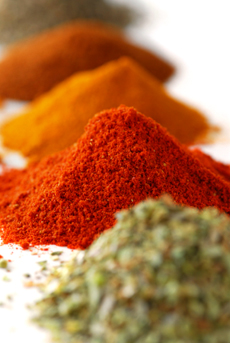 The right spices are more than flavorful, fragrant and colorful: They have antioxidant properties, too. Photo by Elena Elisseeva | IST.

Antioxidant Spices: Rosemary
Seven "Super Spices" That Help Fight Cancer, Illness & Aging
This is Part VI of an eight-part article. Here, we take a look at rosemary. Use the index immediately below to navigate from page to page.


Rosemary
| | |
| --- | --- |
| At 364 ORAC units per teaspoon, rosemary has the lowest antioxidant levels of the Seven Super Spices. What it lacks in antioxidant quantity, however, it more than makes up for in versatility. Rosemary complements a wide variety of foods; it's delicious when stuffed under the skin of roasted chicken, and is perfect with lamb, roasted vegetables and potato dishes of all ilk. It also appears as an ingredient in herbal tea and makes a lovely garnish: try poking a sprig upright into a ramekin of paté or butter, or spear it through a small piece of meat such as lamb chops. | Rosemary is delicious in, and makes a great garnish for, a multitude of meals. Photo courtesy of McCormick. |
You can even grow your own rosemary from an existing plant. Just clip a 10-15cm shoot, strip some leaves from the bottom and plant it directly into soil. If you do a little research first, you can choose a cultivar based on how erect the plant will stand and what color flowers it'll produce. It looks lovely as filler for an outdoor garden, or charming (and close at hand!) in a cute flower pot in your kitchen.
Click here to learn how to make Honey-Rosemary Stuffed Pork Chops and Garden Ratatouille With Crispy Rosemary Polenta, two delicious recipes from McCormick that include plenty of this super (in more ways than one!) spice.
Go To The Index At The Top Of The Page
All material © Copyright 2005- 2015 Lifestyle Direct, Inc. All rights reserved. Images are copyright of their respective owners.