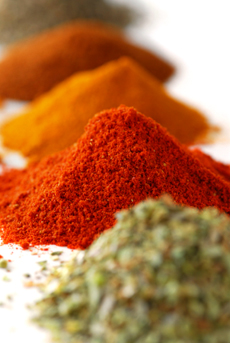 The right spices are more than flavorful, fragrant and colorful: They have antioxidant properties, too. Photo by Elena Elisseeva | IST.

Antioxidant Spices: Thyme
Seven "Super Spices" That Help Fight Cancer, Illness & Aging
This is Part VII of an eight-part article. Here, we explore thyme. Use the index immediately below to navigate from page to page.


Thyme
Thyme's lemony scent may seem familiar to even those who don't cook much, since its most active ingredient, thymol, is an ingredient in a number of over-the-counter medications and hygiene products, including Vicks VapoRub and Listerine mouthwash.

For a sore throat, you can make your own thyme-based remedy by steeping one tablespoon fresh thyme in one cup hot water. Strain it and add lemon and/or honey to taste. This quick beverage will give you 407 ORAC in just a few gulps.

Thyme not only has 407 ORAC per tablespoon, but also remedies a sore throat. Photo courtesy of McCormick.

If you prefer your antioxidants to come from a more complex dish, there are lots of delicious and easy foods to whip up as well. Roll a log of cream cheese in dried thyme leaves, or sprinkle fresh ones directly onto your bagel. Thyme also makes an excellent herbed butter. Try combining it with other herbs to get even more antioxidants; hold your own mini-tasting party to see which combinations you like best. Thyme is also a perfect partner with meatloaf, as well as soups and stews. Throw some into your next can of instant or condensed soup to give it a much-needed shot of flavor.
Click here to learn how to make Citrus Salmon with Orange Relish and Seared Scallops with Red Grapefruit-Avocado Salad, two delicious recipes from McCormick that include plenty of thyme.
All material © Copyright 2005- 2015 Lifestyle Direct, Inc. All rights reserved. Images are copyright of their respective owners.