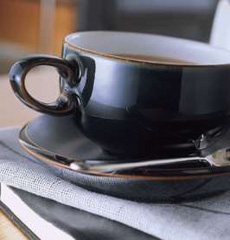 Whether you're trying to spruce up a cup of black coffee or enliven a stack of pancakes, sweeteners and syrups made with maltitol create a gourmet experience in the sugar-free zone. Cupand saucer in Jet pattern from
Denby Pottery
.


Sweeteners, Syrups & Seasonings
Having a sugar limitation can be monotonous and restricting at times. Some sugar substitutes can taste worse than using no sweetener at all. Fortunately, talented food scientists have figured out how to bring on the flavor without the artificial taste. If you have some favorite sugar-free products or low-calorie products to suggest for this list, click on the link to tell us about them.
Nibble Tip

Flavored sweeteners and syrups can add dimension to the entire span of hot and cold beverages. Become a mixologist: mix and match flavors in coffees, teas, diet cocoas, club sodas, diet sodas. Read recipes for "full test" beverages and adapt the concepts to diet drinks. Or follow your instincts and combine the flavors you enjoy.

Use sugar-free syrups to create cocktails.
Photo courtesy of NHB.
Recent Articles From Our Diet Nibbles News Feed:
Subscribing notifies you whenever there are
new additions to the Diet Nibbles section.

Subscribe to THE NIBBLE™ Diet Nibbles by Email