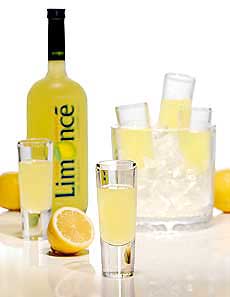 Limoncello is a sunny, citrusy treat. It's delicious in mixed drinks or, as shown here, served as a cordial.

Limoncello Cocktails
Page 3: Orange-Juiced Cocktails
This is Page 3 of a five-page article. Click the black links below to view the other pages.
The Capri
This lovely drink looks like a modern painting.
Ingredients Per Cocktail

1 ounce gin
1/2 ounce limoncello
5 kumquats
4 fresh mint leaves
3 dashes orange bitters
Splash of soda

Preparation

Muddle 3 kumquats, 3 mint leaves, limoncello and bitters in the bottom of a martini shaker.
Next, fill shaker with ice and add gin. Shake vigorously.
Fill a glass one third of the way with fresh ice, drop in a kumquat, add more ice.
Add the remaining kumquat and cover with ice.
Strain the cocktail into a glass and finish with a splash of soda. Garnish with a mint leaf.

Mixology is an art, but the green and orange accents floating in this drink create an art of their own.
Limon Sunrise
This is a beautiful brunch beverage, with a lower alcohol content than drinks made with higher-proof spirits like vodka and gin.

Ingredients Per Cocktail

1 ounce limoncello
3 ounces fresh orange juice
Splash of grenadine
1 orange slice

Preparation

In a tall glass, add all ingredients
over crushed ice.
Add a splash of grenadine and let it settle to the bottom (do not stir) to create the "sunrise" effect.
Garnish with an orange slice.

You can see why Limon Sunrise got is name. The results are nothing short of lovely.
Go To Page 4: Simple & Elegant Cocktails
Recipes © Copyright Distillerie Stock USA Ltd. Other material © Copyright 2005- 2015 Lifestyle Direct, Inc. All rights reserved. Images are the copyright of their respective owners.