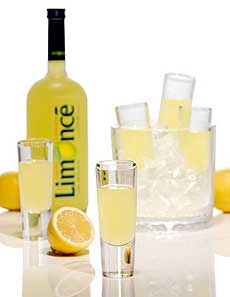 Limoncello is a sunny, citrusy treat. It's delicious in mixed drinks or, as shown here, served as a cordial.

Limoncello Cocktails
Page 5: Sparkling Cocktails
This is Page 5 of a five-page article. Click the black links below to view the other pages.
Limon Bacca Baci
The Italian translation for this drink is "Lemon Elderberry Kiss." Elderberries are easier to find in Italy than in the United States, so substitute blackberries, currants or raspberries and kiss away.
Ingredients Per Cocktail

4 ounces sparkling wine
1 ounce limoncello
1 tablespoon fresh blackberries,
currants or raspberries
Crushed ice

Preparation

In a mixing glass, combine sparkling wine and limoncello.
Place a spoonful of crushed ice in a Champagne flute and top with
raspberries, blackberries or currants.
Pour the sparkling limoncello mixture over the berries and ice.

Fresh berries and sparkling wine make this cocktail light and delightful.
Limoncé Limoncello Spritzer
A classic spritzer is a tall drink made with chilled wine and soda water. Substitute limoncello for the wine, and you have hard, fizzy lemonade.

Ingredients Per Cocktail

2 ounces limoncello
4 ounces soda water
2 lemon slices

Preparation

Add ice cubes to a tall glass.
Pour in soda water and mix in the limoncello.
Garnish with a slice of lemon.

For those who prefer a lower-alcohol drink, try a refreshing Limoncé Limoncello Spritzer.
Recipes © Copyright Distillerie Stock USA Ltd. Other material © Copyright 2005- 2015 Lifestyle Direct, Inc. All rights reserved. Images are the copyright of their respective owners.