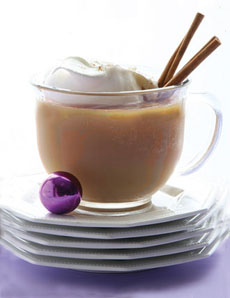 Hot chocolate with a twist. Photo courtesy of Dove Chocolate Discoveries.

Recipe: Tequila Hot Chocolate
Mexican Hot Chocolate With A Kick

Hot chocolate has often been served with a shot of brandy or rum. Why not tequila? After all, chocolate and tequila both originated in Central America. Once you taste this recipe, you'll agree that they're a natural pairing.

This recipe is courtesy of Tequila Cazadores, one of our favorite tequilas, and serves 20. It uses aged tequila, or añejo, which is a sipping tequila. Cazadores Añejo is a top-of-the-line, 100% Blue Agave tequila that's aged for at least 12 months in new American white oak casks.
See the history of tequila, including a review of the different types of tequila—blanco, joven, reposado, añejo and extra añejo.

For non-spiked hot chocolate fun, check out our article, 27 Hot Chocolate Tips.
Tequila Hot Chocolate
Ingredients
30 parts milk
3 tablets of Mexican chocolate
1 stick of cinnamon
1 teaspoon of orange zest
8 parts heavy cream
3/4 part añejo tequila
1/2 part coffee liqueur
2 parts Mexican hot chocolate
Dash of fresh nutmeg
Photo courtesy Tequila Cazadores.
Preparation
First make Mexican hot chocolate by placing the milk, Mexican chocolate, cinnamon, orange zest and heavy cream in a large sauce pan on low heat. Stir until chocolate is completely melted.
Put the Mexican hot chocolate in a brandy snifter along with the añejo tequila and coffee liqueur.
Top with a dash of fresh nutmeg (use a fresh nutmeg and a grater, or a nutmeg grinder), cinnamon or shaved chocolate. Serve.
Recipe© Tequila Cazadores. All other materials © Copyright 2005- 2015 Lifestyle Direct, Inc. All rights reserved. Images are the copyright of their respective owners.