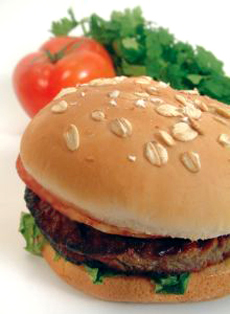 Use School House Kitchen's Bardshar Chutney or Sweet and Smooth Mustard to transform your next burger. You can even try them both together! Photo of burger by Ajay Singh | IST. All other photos by Dhanraj Emanuel.
ELIZABET TRAVIS is an Editorial Intern.
December 2007
Updated July 2008

School House Kitchen Gourmet Condiments
Part I: Luscious Balsamic Vinaigrette
CAPSULE REPORT: Of the thousands of products we have reviewed, perhaps this is the first sold by a not-for-profit organization that was established specifically for the purpose of generating money for education. Hence the name, School House Kitchen. Fortunately, this school house had a good cooking program, because the vinaigrette, chutney and mustard are excellent. This is Page 1 of a two-page article. To read Page 2, click on the black links below.
Just a two generations back, chutneys were commonly made at home. Just one generation ago, everyone made salad dressing—and traded recipes. But times change, and these days, few people don't have the time to make them. And why should they, with so many fine specialty products just a reach way. In a crowded field, School House Kitchen has managed to distinguish itself, and move to the head of the class.
Founded in 2004 by Patsy Smith, this family-operated business (Patsy's daughter, Wendy, became the company president in 2007 and her son, Christopher, is the design director) began in Patsy's kitchen in upstate New York more than 30 years ago with her award-winning Sweet Smooth Hot Mustard. The recipe was passed down to her with the agreement that she only use it for gifts or charitable purposes. Patsy has kept her promise while also creating a chutney and a vinaigrette. Since the beginning, all of the profits from School House Kitchen have gone to nonprofit organizations, mostly schools.
Products

All three School House Kitchen products are available individually, or in one neat box that is reasonably priced, compact for gift-giving and delicious.

Balsamic Vinaigrette Basico
Balsamic Vinaigrette Basico is a sweet, rich dressing with peppery undertones that is perfect over mixed greens or vegetables or as a marinade. If you like bottled vinaigrettes, you'll find this so tasty that there won't be much left for marinating. But when you get to the end of the bottle, shake it with some olive oil, soy sauce or other component of your regular marinade, to drain every last drop.

As part of the lesson of the School House, you should learn the difference between "lush" and "luscious," the words in the yellow banner on the label of the dressing. The answer isn't on the label, but it is in our caption at the right.




Read the label and learn your lesson. Lush: luxuriousness, opulence. Also, tender and juicy. Luscious: Highly pleasing to the taste or smell.
Continue To Page 2: Chutney & Mustard
© Copyright 2005- 2015 Lifestyle Direct, Inc. All rights reserved. Images are the copyright of their respective owners.