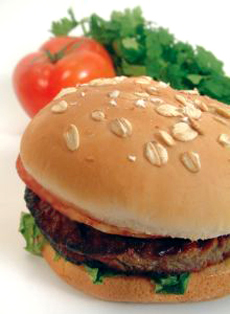 Use School House Kitchen's Bardshar Chutney or Sweet and Smooth Mustard to transform your next burger. You can even try them both together! Photo of burger by Ajay Singh | IST. All other photos by Dhanraj Emanuel.
ELIZABET TRAVIS is an Editorial Intern.
December 2007
Updated July 2008

School House Kitchen Gourmet Condiments
Page II: Chutney & Sweet Hot Mustard
This is Page 2 of a two-page article. To read Page 1, click on the black links below.



Charming chutney.

Bardshar Chutney
Named after the family who gave the recipe to Patsy, this is a long-cooked chutney, dark red with a nice, jam-like texture. The ingredients are not so very different from what you might read on other labels: cider vinegar, sugar, peaches, apples, onions, celery, green pepper, garlic, salt, paprika, cayenne pepper, spices. But the exact recipe is quite nice. It sits in an interesting space between sweet and savory chutneys, and as such is versatile to accompany just about anything. It has dark, sophisticated flavors as well as a perky fruitiness. Use it on burgers of any kind, in chicken or turkey salad, on sandwiches, in hors d'oeuvres, with venison, on pasta, even on ice cream. Try it with cheese. Check out the recipes on the website.
Sweet Smooth Hot Mustard
The name says it all, almost. This sweet and spicy mustard has a touch of sugar and an original creaminess from the unique addition of butter. Your sandwiches will love you, as will vegetables, pretzels or sausages. Cook with it when making rack of lamb, filet of beef, pork medallions or grilled salmon. You may even find yourself eating it from the jar with a spoon, it's that good.

How, you ask, can a mustard be that good? We looked at the label: 42 calories a tablespoon. That's how.

The ladies at School House Kitchen teach a good lesson, though: Create products that make the grade, and enjoy them.




Mucho exciting mustard.
SCHOOL HOUSE KITCHEN

Balsamic Vinaigrette Basico, Bardshar Chutney, Sweet Smooth Hot Mustard

Balsamic Vinaigrette
12-Ounce Jar
$6.99
Bardshar Chutney
8.5-Ounce Jar
$7.49
Sweet Smooth Mustard
7-Ounce Jar
$5.95
Combo Packs
One Of Each (photo at right)
$20.00
2 Mustard, 2 Chutney
$25.00

Purchase online at
SchoolHouseKitchen.org

Also available at at Dean & Deluca and other specialty gourmet retailers.


One of two combo packs, good for gift-giving.

*Prices and product availability are verified at publication but are subject to change. Shipping is additional. These items are offered by a third party and THE NIBBLE has no relationship with them. This link to purchase is provided as a reader convenience.
Go To Page 1: Overview & Balsamic Vinaigrette
© Copyright 2005- 2015 Lifestyle Direct, Inc. All rights reserved. Images are the copyright of their respective owners.