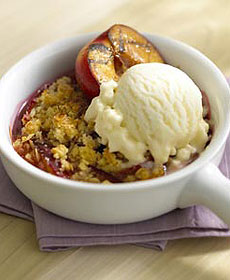 A classic dessert with sour summery flair. Photography courtesy California Tree Fruit Agreement.

Plum Recipes
Page 3: Sour Plum Crumble
This is Page 3 of a 3-page article. Click the black links below to view the other pages. For more stone fruit recipes, check out our summer peaches article.
On The Menu
Sour Plum Crumble
A classic dessert with sour summery flair. Recipe yields 4 servings.
Ingredients
1 (10-inch) piece sour peach gummy candy, cut into 1-inch pieces
1/2 cup water
2 plums, halved and pitted
5 cups sliced plums
1-3/4 cups sugar, divided
3/4 cup flour
1/4 cup rolled oats
Pinch of ground cloves
1/2 cup unsalted butter, melted
Vanilla ice cream (optional)
Mint leaves for garnish
Preparation
Prepare a syrup by simmering candy, 1/2 cup sugar and water in a small saucepan until sugar and candy are completely dissolved. Let cool to room temperature.
Place plum halves and syrup in a large resealable plastic bag; let marinate for 1/2 hour.
Remove plums from bag and drain well. Pat dry with paper towels, then coat with non-stick cooking spray.
Grill over medium heat, cut side down, until well-marked and nearly tender. Turn and grill over indirect heat until fruit is tender; set aside.
To prepare crumble, preheat oven to 400°F and lightly butter 4 individual baking dishes.
Toss plum slices with 1/4 cup sugar and let stand for 15 minutes. Transfer to prepared dishes and set aside.
Stir together remaining 1 cup sugar with flour, oats and cloves, then stir in melted butter; sprinkle over plums. Bake for 30 to 40 minutes or until top is golden brown.
To serve, place grilled plum halves onto crumbles and top with vanilla ice cream. Garnish with mint, if desired.
Recipes courtesy California Tree Fruit Agreement. All other materials © copyright 2005- 2015 Lifestyle Direct, Inc. All rights reserved. Images are the copyright of their respective owners.