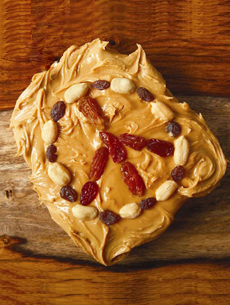 STEPHANIE ZONIS is Contributing Editor of THE NIBBLE. Having just tasted upwards of 100 strawberry jams, it is an appropriate next step to focus on peanut butter.
March 2006
Last Updated March 2012

Peanut Butter Nutrition
Page 3: How Healthy Is That Delicious Peanut Butter?
This is Page 3 of a three-page article. Click on the black links below to visit other pages.
Peanut Butter & Health & Nutrition
Is peanut butter healthful? Well, that depends on the type you choose, not to mention whose opinion you solicit. We'd call it healthful.
There is no doubt that peanut butter is high in fat; a typical two tablespoon serving of an unflavored peanut butter will contain 190 calories, and fat will account for between 130 and 150 of those.
But much of the fat in peanut butter is monounsaturated, a form of fat considered heart-healthy. Peanut butter can be a valuable and inexpensive source of protein, vitamin E, and some B vitamins.
And, contrary to the belief of many people, peanut butter contains no cholesterol—cholesterol is an animal fat.
There is some research suggesting that consuming two tablespoons of peanut butter a day can help you stick to a weight-loss diet, precisely because it's high in fat and, therefore, very satisfying. A "peanut butter diet" revolving around this theory was popular some years ago (see the book below).
Even the U.S. military recognizes that peanut butter is much-loved and a convenient source of energy and nutrients, by including it in some MREs ("meals ready to eat"), rations designed for individuals in military service where normal food preparation is not possible.
What about peanut allergies?
It's true that anyone can suddenly develop an allergy to peanut products, just as it's possible to suddenly develop an allergy to anything else. And peanut allergies can be extremely serious. But far fewer Americans have food allergies than is generally perceived, no more than 5% to 6% of children and only 1% to 2% of adults. Those who know that they have a peanut allergy steer clear of all peanut products, including peanut butter. The great majority of Americans are certainly able to enjoy it—as the sales figures suggest.
Whether you favor a supermarket brand or an epicurean blend, there's a peanut butter for your tastes and pocketbook. An old saying about peanut butter provides some good advice: "Peanut butter is love. Spread some around!"
Peanut Butter Brands
Below is a listing of a dozen peanut butter and peanut spread brands, in alphabetical order: there's plenty of love to spread around.
Brand
Arrowhead Mills
Organic and natural peanut butters, as well as conventional varieties. Arrowheadmills.com
Better'n Peanut Butter

Two natural, low-in-fat peanut spreads, regular as well as low sodium. The website claims that both are 85% lower in fat and contain 40% fewer calories than regular peanut butter. Betternpeanutbutter.com

Crazy Richard's

Natural peanut butter. Amazon.com

Cream-Nut
Natural peanut butter. Koeze.com
Krema Nut Company
Natural peanut butters. Krema.com
MaraNatha

Organic and natural varieties, including "No Stir" peanut butters without oil separation or trans fats. WorldPantry.com

P.B. Loco

Originally a multiple-location café with an online store offering a dozen peanut butters in exciting flavors. Read

our review

. Alas, the original business closed and has been reopened as of this publishing with four flavors: Natural Peanut Butter, Choco Choco (chocolate honey), CoCo Bananas (chocolate banana), Cookie Nookie (cookie dough) and Razzle Dazzle (chocolate raspberry).

Peanut Butter & Company

A sandwich shop in New York City that sells a half-dozen kinds of their peanut butters, from White Chocolate Wonderful to The Heat Is On. All peanut butters are natural. ILovePeanutButter.com

Smart Balance Omega

As of this writing, this product is available only on the East Coast; it is not yet on the website. However, it is expected to be in national distribution shortly. A peanut butter with no hydrogenated oils and no refined sugars, it's also 25% lower in saturated fat than a leading brand. Contains 1500 mg of Omega 6 fatty acids and 1000 mg of Omega 3 fatty acids per serving. SmartBalance.com

SnacLite

Makers of two peanut butter blends, one with flaxseed and flaxseed oil, one with extra protein, flaxseed oil, fiber and "essential fatty acids." SnacLite.com

Style Peanut Spread

Natural peanut spreads in flavors such as Milk Chocolate Raisin, Cookies & Cream, and Hot Chile. Spread, the restaurant, is in San Diego, but any type of peanut butter product seems absent from its menu. StylePeanutSpread.com

Sunland Infused (Formerly Peanut Better)

Organic peanut butter in flavors from Sweet Molasses to Onion Parsley. The website claims they've virtually eliminated the oil separation problem. Read

our review

. PeanutBetter.com

Peanut Butter Books
| | | |
| --- | --- | --- |
| | | |
| Peanut Butter & Co. Cookbook, by Lee Zalben. More than 80 gooey recipes for everything from decadent desserts (Four-Layer Peanut Butter–Honey Cake) to delicious, nutritious snacks (Baked Apples with Peanut Butter) and sensational entrees (Peanut Butter Pad Thai). More information. | The Ultimate Peanut Butter Book: Savory and Sweet, Breakfast to Dessert, Hundreds of Ways to Use America's Favorite Spread, by Bruce Weinstein, Mark Scarbrough. From sticky buns to cheesecake to Elvis Spread, go way beyond the same old PB&J. More information. | The Peanut Butter Diet, by Holly McCord. Can you really slim down with your favorite comfort food? According to this book, you can. It's a fad diet, but any diet works...for a while. Peanut butter not only tastes great, it delivers protein and other good nutrition. More information. |
© Copyright 2005-2015 Lifestyle Direct, Inc. All rights reserved. Images are the copyright of their respective owners.