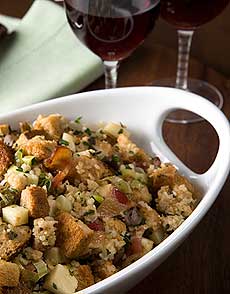 Crunchy bulgar wheat gives the traditional Thanksgiving dressing a new texture and taste. Photo courtesy Butterball.

Thanksgiving Dinner Recipes
Page 4: Sautéed Leek, Giblet & Bulgur Wheat Dressing


This is Page 4 of a 5-page article. Click the black links below to view the other pages.
On the menu:
Sautéed Leek, Giblet & Bulgur Wheat Dressing
Crunchy bulgur wheat combined with whole grain bread, sautéed bacon, leeks, celery root and cooked giblets create a twist on traditional dressing. Makes 12 to 14 servings.
Ingredients
12 ounces chopped thick-sliced hickory smoked bacon
3 tablespoons butter
3 tablespoons olive oil
2 cups sliced leeks
2 cups chopped celery root
1-1/2 cups chopped parsnips
8 cups whole grain bread, cubed and toasted
4 cups country white bread, cubed and toasted
2 cups cooked bulgur wheat
Giblets from turkey, cooked and chopped
1/3 cup chopped fresh parsley
2 tablespoons chopped fresh sage
2 tablespoons chopped fresh thyme
1/2 teaspoon salt
1/4 teaspoon black pepper
3 cups chicken broth or reserved broth from giblets
*If fresh herbs are not available, substitute 1 teaspoon dried herbs for each tablespoon fresh.
Preparation
Preheat oven to 350°F.
Place neck, heart, gizzard and water to cover, with salt and pepper to taste, in large saucepan. (Reserve the liver for later use or discard.) Bring just to a boil over medium-high heat. Reduce heat to low; cover.
Simmer 1-1/2 hours, adding the liver, if desired, for the last 30 minutes of the cooking time. Strain stock; cover and refrigerate until ready to use in stuffing mixture.
Remove meat from the neck; discard bones. Finely chop neck meat, heart, gizzard and liver, if using; cover and refrigerate until ready to use.
Cook bacon in a large saucepan on medium heat until crisp. Remove bacon, leaving bacon fat in pan. Drain bacon on paper toweling. Add butter to bacon fat.
Sauté leek, celery root and parsnips in bacon-butter mixture until tender-crisp, about 5 to 7 minutes.
Combine cooked vegetables, breads, bulgur wheat, cooked giblets, parsley, herbs, 1/2 teaspoon salt, 1/4 teaspoon black pepper and cooked bacon in large bowl. Gradually pour in chicken broth, mixing until all ingredients are moist.
Place mixture in well greased 4-quart baking dish and cover with foil. Bake for 30 minutes. Remove foil and continue baking for 15 to 20 minutes, or until internal temperature reaches 165°F.
Continue to Page 5: Cranberry Pumpkin Crumble Cheesecake Squares
Return To The Index At The Top Of The Page
Recipes and photos courtesy Butterball.. All rights reserved. Additional material © Copyright 2005- 2015 Lifestyle Direct, Inc. All rights reserved. Images are the copyright of their respective owners.