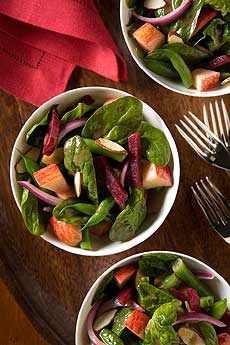 Start your Thanksgiving off right with an appetizer of Beet, Spinach & Apple Salad with a pomegranate vinaigrette. Photo courtesy Butterball.

Thanksgiving Dinner Recipes
Page 2: Pomegranate Vinaigrette Over Beet, Spinach & Apple Salad


This is Page 2 of a 5-page article. Click the black links below to view the other pages.
On the menu:
Pomegranate Vinaigrette Over Beet, Spinach & Apple Salad
Start your Thanksgiving dinner with this colorful salad that combines fruit, vegetables and nuts, dressed with an easy-to-prepare pomegranate vinaigrette for a light and fresh holiday option. Makes eight servings.
Ingredients
Pomegranate Vinaigrette
1/3 cup pomegranate juice
2 teaspoons white balsamic vinegar
2 teaspoons fresh lemon juice
1-1/2 teaspoons Dijon-style prepared mustard
1-1/2 teaspoons sugar
1/8 teaspoon salt
1/8 teaspoon ground black pepper
2/3 cup olive oil
Salad
4 cups baby spinach leaves
2 cups blanched fresh green beans*, cut into 2-inch pieces
1 cup chopped red-skinned apple (i.e. Gala, Jonagold, Jonathan)
1 cup canned julienne cut beets, well drained
1/3 cup thinly sliced red onion
1/2 cup sliced almonds**
* Substitute 1 cup waxed beans for green beans, if desired.
**Substitute candied almonds for additional flavor, if desired.
Preparation
For dressing, place all ingredients except oil in blender container; cover. Blend well. With blender running, gradually add oil through opening at top of blender, blending well after each addition. Pour dressing into storage container and refrigerate until ready to use.
For salad, combine all ingredients except almonds. Refrigerate until ready to serve.
Whisk dressing and toss with salad mixture just before serving. Sprinkle almonds on top.
Continue to Page 3: Citrus, Mustard & Herb Infused Turkey
Return To The Index At The Top Of The Page
Recipes and photos courtesy Butterball.. All rights reserved. Additional material © Copyright 2005- 2015 Lifestyle Direct, Inc. All rights reserved. Images are the copyright of their respective owners.