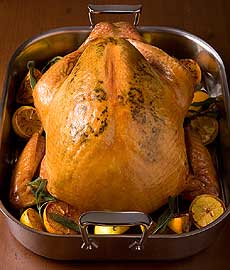 Citrus, Mustard & Herb Infused Turkey makes a decidedly delicious and different Thanksgiving bird. Photo courtesy Butterball.

Thanksgiving Dinner Recipes
Serve Your Friends And Family A Stunning Meal Of Classic Dishes With New Twists


It just wouldn't be Thanksgiving without the traditional turkey and all its fixings. This year, The Nibble brings you a menu of new recipes, courtesy of Butterball, that incorporate classic, seasonal ingredients with new flavor twists. The Big Day can be pretty stressful, though: Cleaning house, entertaining guests and serving the largest meal of the year can take its toll on your patience. But this year, Butterball makes things easier for you by offering a number of ways to get holiday and cooking advice, including an expanded website, a live 1-800 number, even text messages. Check out Butterball.com for all the details. Now get out there and get cooking!
This is Page 1 of a 5-page article. Click the black links below to view the other pages.
On the menu:
Try these tips from Butterball to take your Thanksgiving meal to a whole new level.
Flavor Forecast: Giblets are in! Try incorporating them into a stuffing with unconventional ingredients for a new twist. Change up an old turkey recipe by trying a new seasonings trend, such as citrus and herb flavor combinations or Dijon mustard.
Thermometer Technology: Purchase a digital meat thermometer—a must-have for turkey cooking in the "digital age." The temperature gauge stays in the turkey while the digital read-out sits outside the oven. It can even be programmed to go off when the turkey has reached the correct temperature. Recommended temperature is 180°F in the deepest part of the thigh or 165°F in the center of the stuffing.
Post It: Don't do all the cooking yourself—potluck dinners are all the rage. E-mail a side dish sign-up sheet to guests and ask them to bring different dishes or desserts for the meal. Post the list on your personal website, blog or social networking page so guests can see who is bringing what.
Thawing 102: Thawing continues to be the number one question received at Butterball's Turkey Talk-Line. They recommend refrigerator thawing—one day for every four pounds of turkey. If short on time, try the quick water thaw method. Submerge the turkey in its unopened wrapper in cold water and change the water frequently to help speed up the thawing process. Thaw 30 minutes for every pound of whole turkey.
Continue to Page 2: Pomegranate Vinaigrette Over Beet, Spinach & Apple Salad
Return To The Index At The Top Of The Page
Recipes and photos courtesy Butterball.. All rights reserved. Additional material © Copyright 2005- 2015 Lifestyle Direct, Inc. All rights reserved. Images are the copyright of their respective owners.