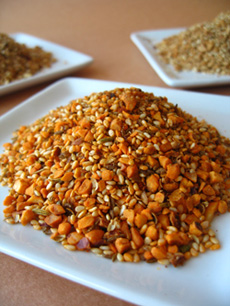 Three flavors of dukkah: Zesty, Smoky Hot and Traditional. Photo by Emily Chang | THE NIBBLE.

Dukkah Recipes
Page 5a: Fresh Beet Salad & Garbanzo Bean Salad
These recipes were developed by Chef Donna Dockins, creator of Oregon Dukkah. This is the second of five pages of side dishes. Click on the black links below to visit other pages.
Dukkah Side Dish Recipes
If you cannot obtain Oregon Dukkah, you can make your own dukkah from the dukkah recipe, seasoning it appropriately.
Ingredients
1 large beet, peeled and grated
2 stalks of celery or ½ bulb of fennel, finely chopped
1 bunch Italian parsley, finely chopped
3 green onions, finely chopped
1 large Granny Smith apple, grated
½ lemon, squeezed
3 tablespoons or more Traditional Oregon Dukkah
Preparation
Mix first five ingredients together. Toss with lemon juice.
Add Oregon Dukkah and dressing (below), toss again.
Dressing
Mix equal parts of white balsamic vinegar and oil, a blend of equal parts of grapeseed or canola oil and olive oil.
Infuse a sliced clove of garlic into vinaigrette, then remove.
Shake or stir, pour over salad and toss. Salt and pepper to taste.
Garbanzo Bean Salad
Yield: 4 servings.
Ingredients
1 can (15 ounce) garbanzo beans, drained
1/2 cup chopped celery
1 tablespoon diced onion
1 apple, cored and chopped, or 1 cup grapes
2-4 tablespoons Zesty Oregon Dukkah
1/4 cup mayonnaise
1 tablespoons honey
1/4 teaspoon lemon juice
1/2 head iceberg lettuce, rinsed, dried and shredded
Preparation
In a salad bowl, combine the chick peas, celery, onion, apple or grapes and Zesty Oregon Dukkah.
Prepare the dressing by whisking together the mayonnaise, honey and lemon juice.
Combine the salad mixture and dressing. Toss and serve on a bed of shredded lettuce.
Continue To Page 5b: More Dukkah Recipes ~ Side Dishes
© Copyright 2005- 2015 Lifestyle Direct, Inc. All rights reserved. Images are the copyright of their respective owners.